On March 18, when Oregon Gov. Kate Brown issued a ban on elective procedures to maintain resources during the COVID-19 pandemic, Michaela Mitchell was furloughed from her job as a perioperative and pain management procedure nurse.
From home, she watched as New York City became the world's coronavirus epicenter. Officials were taking urgent steps to stem the outbreak including asking for help with staffing and supplies for intensive care units that were about to receive a surge of patients.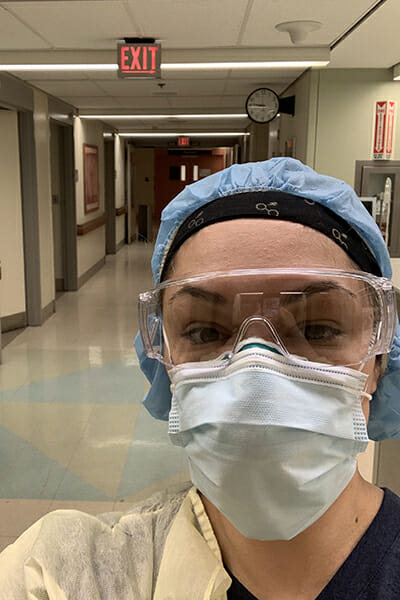 "It didn't feel good to sit at home and do nothing," Mitchell said. "So, I thought I might as well be in New York doing something. I might not be an ICU nurse, but I'm still a nurse." Mitchell holds her bachelor's degree in nursing and is earning her advanced degree through Maryville Online's accelerated Doctor of Nursing Practice program.
Mitchell applied to several staffing agencies hiring temporary nurses and was accepted with one caveat: she had to be ready to travel within 48 hours. After serving 10 years in the U.S. Army, Mitchell was no stranger to deployment. But it was still difficult to leave behind her husband, 8-year-old son and 18-month-old daughter.
Mitchell arrived in New York City on April 1 and was assigned to the intensive care unit at North Central Bronx Hospital. She was greeted by a skeleton crew. Nurses were managing up to four patients with severe symptoms of COVID-19 at a time. Most patients required ventilator support. The staff had to determine which patients would receive lifesaving care and which ones would not.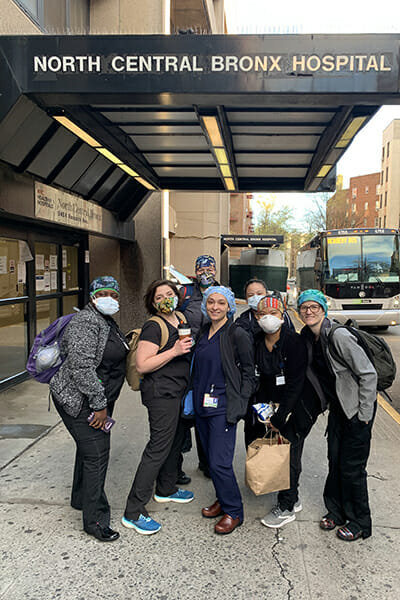 "One night, we had 11 patients go into cardiopulmonary arrest and require immediate resuscitative efforts — and 10 of those patients died," Mitchell said. "It was surreal, and we realized that this virus was not normal. There were so many critically ill patients and people were dying at such a high rate. There weren't enough health care providers in the hospital to take care of them."
The team also experienced a shortage of personal protective equipment. Donning and doffing her gown, plastic face shield, paper scrubs and other items became a familiar ritual. At the end of each shift, she carefully stored her N-95 mask in a brown paper bag to reuse the next day.
Despite the challenges, Mitchell described her assignment as "the experience of a lifetime" and was inspired by the health care workers she served alongside during the crisis. "A lot of us have the same story in our hearts," she said. "I'm only one of many who did whatever I could to help. When so many people are lost and scared of what tomorrow looks like, I feel lucky to serve in a job I love. I am so proud to be a nurse."