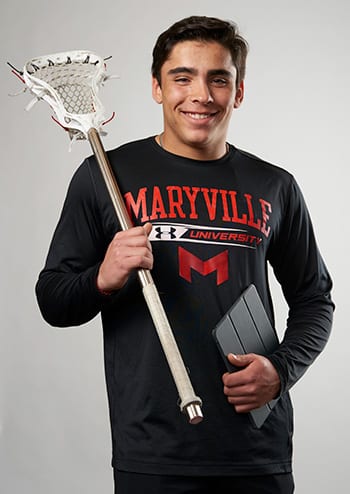 Major: Pre-Med
Graduation Year: 2018
GPA: 3.33
After transferring to Maryville University, it didn't take long for Tristan Snellgrove to make himself a valued member of campus.
In less than a year, he was leading tours of Maryville to potential incoming students and was one of two upperclassmen on the lacrosse team who was providing leadership to the young squad.
"The atmosphere that the school has created, it is a very tight-knit community," says Snellgrove, who will be a senior during the 2017 – 2018 academic year. "I really like that everyone is so friendly and willing to help out at any moment."
Snellgrove, a pre-med major, transferred to Maryville from the University of Mount Olive, based in southeast North Carolina, after his sophomore year. He received academic and athletic scholarships to attend Maryville.
His family, who lives in Aurora, Colorado, won't even have to wait to get to campus to see Snellgrove as he is featured on the university's ad campaign at St. Louis Lambert International Airport.
"They are really excited to see the ad at the airport the next time they fly in for a visit," says Snellgrove. "I think the ad is cool, and I am excited and honored to be representing Maryville University. I hope it brings awareness and exposes the school to future and current students."
While not giving tours or assisting as a member of the school's Student-Athlete Advisory Committee, Snellgrove can be found on the lacrosse field. He finished tied for second on the team in goals scored with his 10 in 15 contests last season.
"This is not the type of production I anticipated at the beginning of the year, but as long as the team is moving in the right direction that is all that matters," says Snellgrove. "The focus should always be, playing as part of a team. As far as my personal production, I always want to contribute by scoring more but being a leader, on and off the field, is just as important."
The team picked up its first victory of the season with a 17-3 thrashing of Lindenwood – Belleville in its next-to-last game. Snellgrove posted a goal in that contest. He expects more during year two.
"Our experience from this season and new players coming in next year, should allow us to compete for a spot in the conference tournament," says Snellgrove. "I think as a team we have come together and embraced any challenges that has come across our path. I feel as a team we are leaps and bounds ahead of most other first year programs."