Kalix Jacobson
Major: Business Administration
Graduation Year: 2017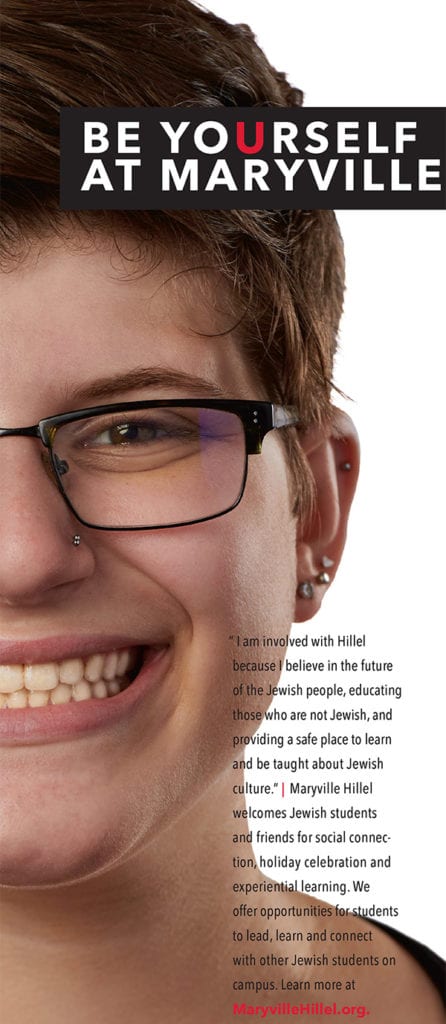 Maryville University offers students over 100 student organizations representing general and academic interests, spiritual beliefs, cultural groups and more to keep students active and involved.
Kalix Jacobson, a member of Maryville Hillel, believes most students would benefit from joining an organization.
"I have found many friends through Hillel, and I have truly enjoyed my time on campus because of Hillel," says Jacobson, a business administration major who graduates this December. "I would recommend anyone to join Hillel or other organizations because of the amazing people involved."
Maryville Hillel serves the entire community and welcomes Jewish students and their friends to all programs. The group offers a full calendar of social, cultural and experiential education programs, as well as holiday celebrations that are open to all. It also offers opportunities for students to lead, learn and connect with other Jewish students on campus, which is important for Jacobson.
"I am involved with Hillel because I believe in the future of the Jewish people, educating
those who are not Jewish, and providing a safe place to learn and be taught about Jewish
culture," says Jacobson. "It is so important for Maryville to offer diversity and inclusion groups because we as a student body are diverse and deserve to be included."
Currently, she is an intern at Hillel and helps manage different activities and events on campus.
"We are planning to continue educating Maryville students about Judaism with our many programs," says Jacobson.
Programs include the Maryville Sukkah, the Jewish Cultural Food Fests and Chocolate Seder.
Find more information at MaryvilleHillel.org.