Destinie Jones
Major: Biology
Graduation Year: 2021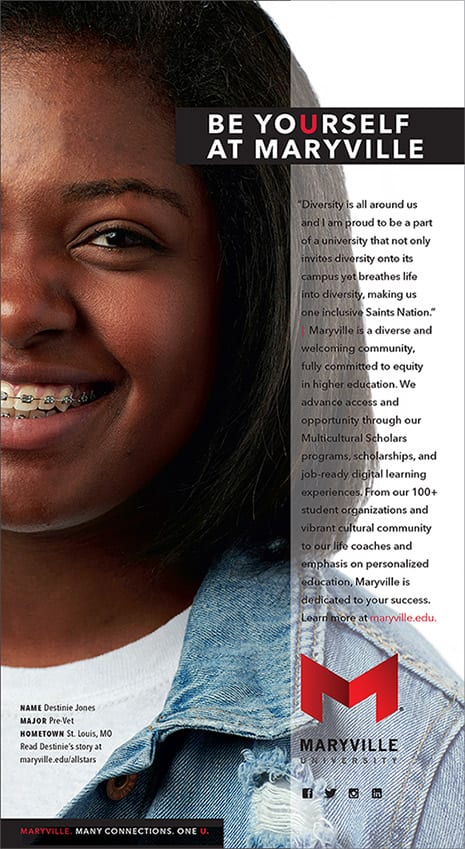 In just her first year at Maryville, Destinie Jones has thrived as one of the university's All-Star students.
Jones is a member of several student organizations including the Association of Black Collegians, Partners for Animal Welfare (PAW), Campus Crusade for Christ (CRU) and participates in the multicultural scholarship program.
"I love it all, and it's fun," says Jones. "I'm proud to be an African-American woman and able to celebrate my culture."
She also received the Dr. Donald M. Suggs Scholarship. This scholarship serves African-American undergraduate, academically strong students. The scholarship honors the continuing legacy of Dr. Donald M. Suggs, publisher of The St. Louis American newspaper, and longtime philanthropist and community leader.
"I'm very proud to be awarded the scholarship," says Jones. "It truly shows that the diversity and inclusion program at Maryville saw me as a leader and an advocate for diversity."
As part of the scholarship, Jones engages in the university's multicultural program.
"It prepares us for the real world," says Jones. "Right now, we are learning about ourselves. We have to know our strengths and weaknesses and every year it just builds upon that. In the future will learn about other cultures and ethnicities. You pretty much leave Maryville being more aware of diversity. Maryville, as a whole, really does try to make everyone aware of diversity and inclusion. They put on a lot of educational and cultural events so you become exposed to other cultures."
After graduating from Maryville, Jones, a biology major, hopes to continue her education to become a veterinarian.
"I have always wanted to be a veterinarian since the sixth grade," says Jones. "I've always been passionate about pets and people so this is a happy medium."