The Saints athletic department is taking strides to keep pace with the overall campus growth by offering new sport programs, constructing new athletic fields and renovating existing facilities.
"President (Mark) Lombardi talks about how Maryville continues to grow in regard to student population and academic programs and how the footprint of campus is expanding," says Lonnie Folks, director of Maryville's athletics and recreation. "In athletic administration, you can't ask for anything more."
Just in the past quarter, Maryville has:
• Added stadium seating to the soccer field
• Constructed a new track encircling the soccer field
• Started construction of athletic fields property adjacent to campus
• Invested in construction of a new hockey rink in Chesterfield
"Our university has grown, and we try to be very strategic with how we add value for the student population," says Folks, who graduated from Maryville in 1982 and then worked with the Saints as assistant director of athletics, sports information director and head coach for women's soccer, women's basketball and softball.
"You're going to see construction here for the next few years. It's out of necessity to keep up with the growth of our programs and our university," he says.
Eight-Lane Track
In the past, track teams at Maryville had to go offsite to host "home" matches and to practice because there wasn't a track on campus. That changed this summer with the installation of an eight-lane track around the soccer field. The dedication was held during Homecoming Week when alumni were invited to join the current teams for a ceremonial lap around the track.
"We've always had to go offsite to practice," says Folks. "This is an opportunity for track, student-athletes to host real home matches."
Folks adds the track team hopes to host its first home meets this upcoming spring and that the track is open to all students, faculty and staff for use.
Development off of Conway Road
The building of lacrosse and softball fields, a locker room and tennis courts on the land next to the practice fields off Conway Road is expected to begin this November. Folks expects the construction to be finished so the fields could be used by the start of the next fall semester, if there are no unexpected delays.
More fields were needed because there had been times each season of a Maryville team having to move a home contest because the men's and women's soccer team along with the men's lacrosse team were using the same field.
"We've had to move at least one home contest because of multiple matches on the same day" says Folks. "We can't have all these teams using it at the same time."
The women's lacrosse team will also be using the lone soccer/lacrosse field when their season begins next spring.
"It's trying to match the growth of our programs," says Folks. "Once finished, we will have facilities for all of our programs."
Hockey Rink
Another new program at Maryville, the men's hockey club, will break ground on a new rink this November.
An 84,000 square-foot facility with two sheets of ice will be constructed in Chesterfield. Maryville will be the exclusive university to call it their home ice.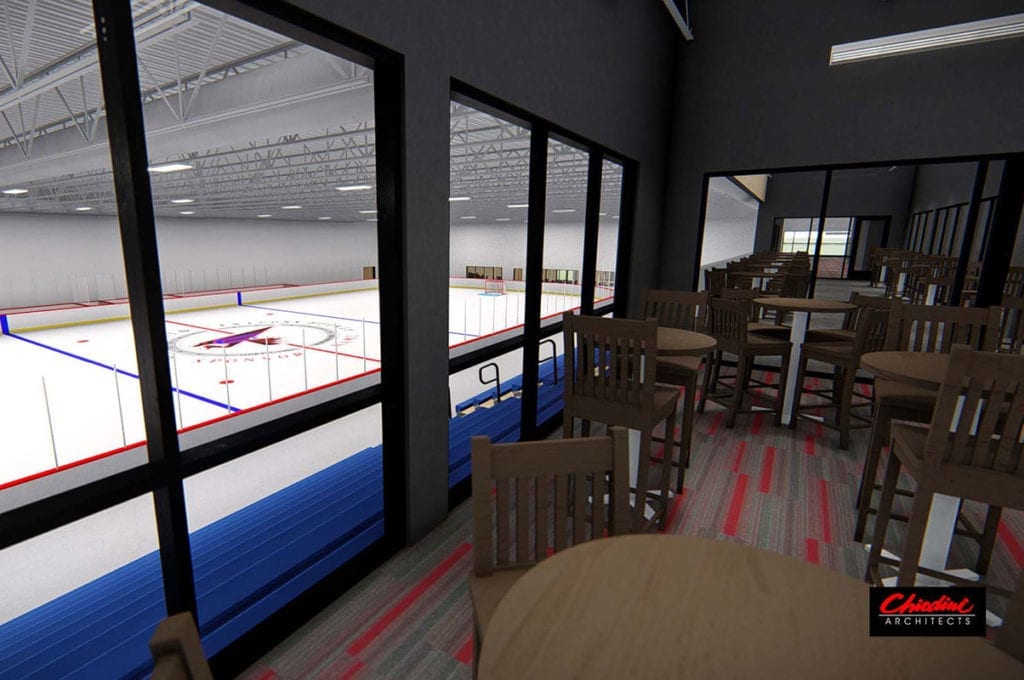 "We are becoming an unbelievable community partner," says Folks. "It'll be good for West County and good for Chesterfield. People are thrilled to partner with Maryville and hockey will be no exception."
The rink is expected to be finished by late summer or early fall of 2019. The Saints currently plays its home games in Affton.
"We have had a good fan base in Affton, but once we get the new facility, then attendance will go up even more so," says Folks.