The Maryville University community mourns the passing of its oldest alumna, Constance "Connie" Dorsey, '36. Dorsey, a longtime St. Louisan, would have celebrated 103 years in December — nearly 40 years of which were dedicated to teaching young students. She pursued a meaningful life guided by her mantra: "Treat every person as if they were the most precious person in the world."
"Connie was a beloved teacher and an extraordinary person who educated thousands of St. Louis children during her career," says President Mark Lombardi. "A good friend to Maryville, Connie actively attended many events and was a generous supporter."
Dorsey's first job was in a one-room schoolhouse. She also taught first grade for 27 years at St. Elizabeth's of Hungary in Crestwood, Missouri.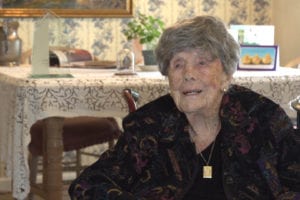 "What I liked best about teaching was that every day was a delight. I loved it," Dorsey told Maryville Magazine in 2014.
One of her former students, Thomas Boudreau, '73, is now chair of Maryville's Board of Trustees.
Dorsey received the Centennial Award (now the Heart of Maryville Award) at Maryville University in 2014. The recognition honors those whose lifestyle exemplifies the values of the Sacred Heart. She was proud of a scholarship established by her family in her name, given each year through Maryville's School of Education to help a young scholar achieve their dream of teaching.
"I am honored that young teachers will be able to experience the joy I felt teaching every single day surrounded by my angels," she said about the scholarship.
Honored by other schools and organizations, Dorsey received the first Philippine Duchesne Award, and was named a Hidden Heroine by the Girl Scouts. She was recognized with a Trés Bien award as an outstanding Villa Duchesne alumna.
An avid traveler, Dorsey rode a camel in Egypt, sold mint in a market in Morocco, and visited schools in China. She was also an ardent St. Louis Cardinals baseball fan; at 99 years old, she was invited to throw out the first pitch of the season.
She is survived by her daughter, Addie Tomber, '68, (Phil), four grandchildren and six great-grandchildren (with a seventh expected in February).