Maryville University President Mark Lombardi, PhD, was honored at the 2021 Musial Awards for his visionary leadership.
The Musial Awards presented by Maryville University celebrate the year's greatest moments of sportsmanship and those in sports who exemplify class and character. The Musial Awards are named for St. Louis Cardinals legend Stan Musial, a beloved baseball superstar and civic ambassador, who was the ultimate good sport. The show is produced by the St. Louis Sports Commission and the National Sportsmanship Foundation, a charitable nonprofit organization.
"There is no question that the Musial Awards would not, and could not, take place without Mark Lombardi," said Frank Viverito, president of the St. Louis Sports Commission. "Maryville underwrites the event as our presenting sponsor, and it was also Mark's idea to ask the Musial family to become involved in our efforts. To me, it's an easy case to make that Mark is the best sport of all. No one is more deserving of a Musial Award than he is."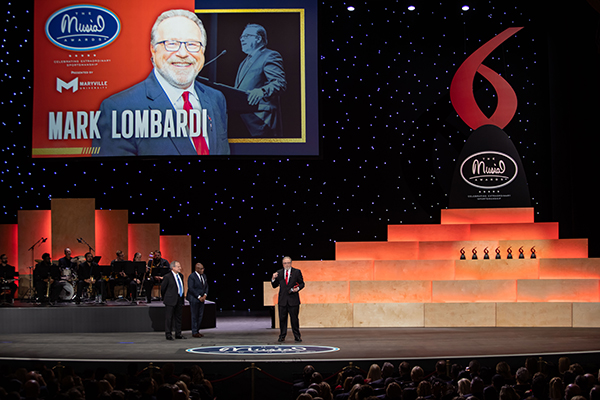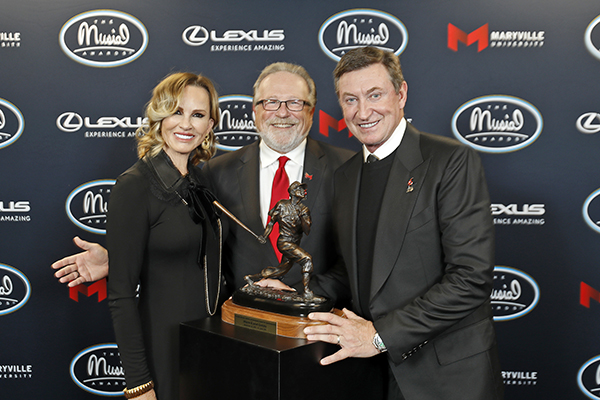 Lombardi was recently elected to a third term as chair of the St. Louis Sports Commission, a role he has held since 2017. Under his leadership, the St. Louis Sports Commission has produced high-profile events that generate excitement, revenue and positive exposure for the St. Louis region, including the U.S. Olympic Gymnastics team trials at the Dome at the America's Center last June.
Other honorees at the 2021 Musial Awards include Wayne and Janet Gretzky, who received the highest award for sportsmanship: the Stan Musial Lifetime Achievement Award. Together, Wayne and Janet have generously given their time and efforts to many charitable causes, and are models of kindness and graciousness.
The #MusialAwards would not and could not take place without #MarkLombardi and @MaryvilleU. Pleased to present Dr. Lombardi with the next #MusialAward

— Musial Awards (@MusialAwards) November 21, 2021
Dr. Lombardi won a #MusialAward tonight! Congratulations! pic.twitter.com/b8CNWOlbaV

— Maryville University (@MaryvilleU) November 21, 2021
Congrats to @MaryvilleU President and #Innovator Dr. Mark Lombardi for winning his very own #MusialAward https://t.co/KsfvFvoP7L @MusialAwards pic.twitter.com/MoRbKmKVac

— Phil Komarny (@PhilKomarny) November 21, 2021
It was a night to remember in St. Louis! #MusialAwards #STLMADE pic.twitter.com/VRZxzkVTmZ

— Musial Awards (@MusialAwards) November 22, 2021
The #MusialAwards would not be what it is today without @MaryvilleU. It was our honor to recognize President Mark Lombardi with a Musial Award for all their contributions. pic.twitter.com/V8BQ5BhhQ3

— Musial Awards (@MusialAwards) December 1, 2021