At Maryville University, we're taking a giant leap toward sustainability and embracing the future of transportation with the recent installation of two brand-new Level 2 electric vehicle (EV) charging stations on campus. These cutting-edge stations, strategically located at lot 19 in front of Buder and lot 10 in front of the DUC, are set to revolutionize the way we power our rides and contribute to a greener campus environment.
With the capacity to service up to four cars simultaneously, these charging stations make going green while staying on-the-go easier than ever. They are equipped with two charging ports each, ensuring that students, faculty, and visitors can power up their electric vehicles efficiently.
Going Green, Right Down to the Pavement
To ensure easy identification of the charging stations, we've striped the designated parking spaces green and added pavement stencils to highlight their purpose. While we're excited to offer this eco-friendly charging solution, let's remember to be considerate. Only EVs in need of charging should occupy these dedicated spots. Gas-powered vehicles and fully charged electric cars should kindly find their parking elsewhere to ensure everyone has the ability to charge up.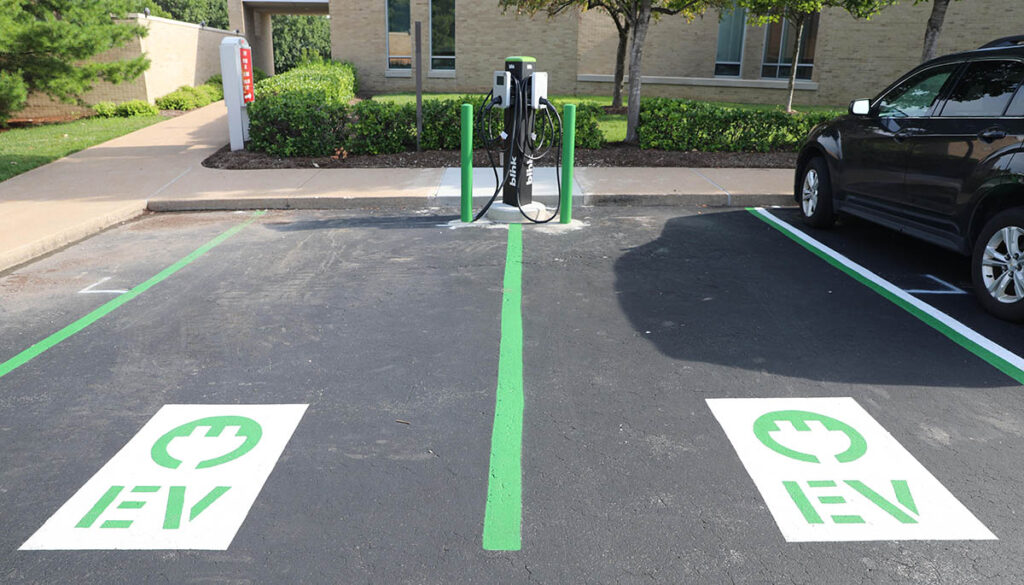 Charging Convenience in Your Hands
Paying for your EV charging session is as easy as the drive itself. We've introduced a range of payment options to suit your preferences:
Direct Pay at the Station: The simplest method – pay with your major credit or debit card at the station itself.
Blink App: Download the Blink app, your gateway to hassle-free payments and access to our charging stations.
Blink RFID Card: You can also request a Blink RFID card through the app. This card provides you with swift access and streamlined payments at our stations.
Please note: Payment is not linked to your Saints ID.
A Charge for Progress, Not Your Wallet
We believe that sustainability should be accessible to all, which is why we're offering charging at a reasonable rate of $0.15 cents per kilowatt hour. This pricing ensures that powering your EV remains affordable and helps make the switch to electric vehicles even more attractive.
These two EV charging stations are more than just a place to plug in. They signify our commitment to sustainable practices and innovation. Plug in, power up, and drive towards a more sustainable future!