As an undergraduate student, Betsy Hawkins-Chernof built a custom database and trained another student how to use it. "When she shared her 'aha!' moment with me, I realized how fun it was to teach her how to use technology," she said.
That teaching moment was serendipitous. Today, Hawkins-Chernof, OTD, OTR/L, SCSS, ATP, assistant professor of occupational therapy, is an assistive technology expert. After more than a decade as a school-based occupational therapist with Special School District of St. Louis County, she is sharing her passion for assistive technology through an inclusive esports gaming league.
The program started in Summer 2019 through a series of adaptative gaming nights at the Microsoft Store in the Saint Louis Galleria. The retail store provided the equipment and the program invited different St. Louis area organizations such as Best Buddies and Paraquad's Youth Group to play video games.
"I got to expose people to equipment who never knew those things existed, which was really exciting," she said. The Xbox Adaptive Controller connects to external switches, buttons, mounts and joysticks to help making gaming more accessible. "It allows you to play any game you want on the Xbox with just a button," she said. "If someone has limited mobility but can move their head or hold down a button, I can help them play video games."
Then, the pandemic hit. In June 2020, Microsoft permanently shuttered its physical stores, including its St. Louis location. The adaptive gaming nights came to a halt.
Unsure of her next move, Hawkins-Chernof shared her frustration with friends. Which led to an introduction to Dan Correll, coordinator of leisure services at the St. Louis Arc. He was looking to start an online esports club amid the pandemic, since traditional in-person programming didn't allow for social distancing.
A new partnership was born, and the pair launched Plug In, an esports gaming league for all abilities. The first season, gamers with and without disabilities competed against each other in Madden NFL 19. "The goal was to promote inclusion through gaming," Hawkins-Chernof said. "Our focus was to bring people together. No one knew who had a disability or didn't; you were just matched up." The league quickly became the St. Louis Arc's fastest growing program, with a transition to Rocket League and other games to allow cross-platform play.
A unique aspect of Plug In is that gamers simultaneously play and socialize on Zoom. "We set people up into breakout rooms so that while you're playing your 1v1 game, you can talk to that person and make friends. After gamers are finished with their competitive games, everyone goes back into the main room, and we play 3v3 and 4v4 for fun," she said. "By doing simultaneous Zoom, it also allows us to help people with cognitive disabilities get their game set up or support their tech issues. We also do a meet and greet the first week so people can meet each other."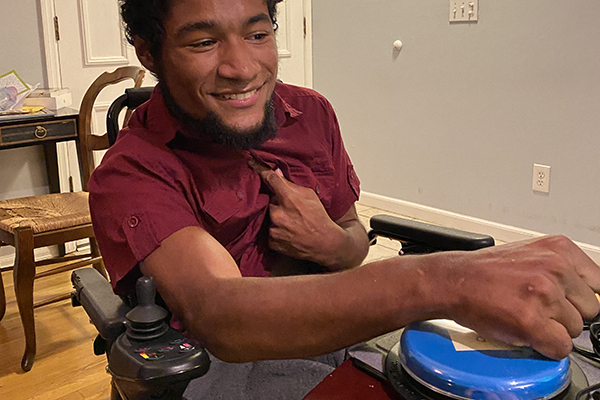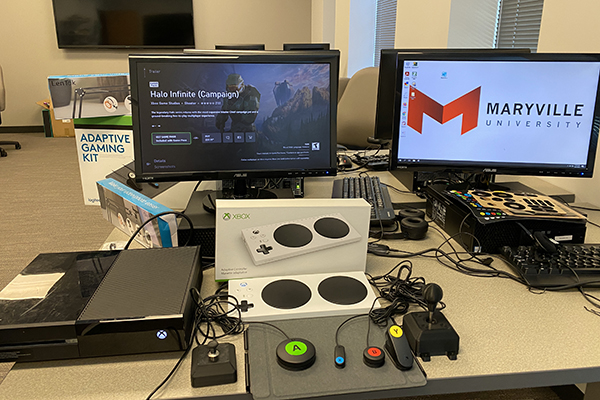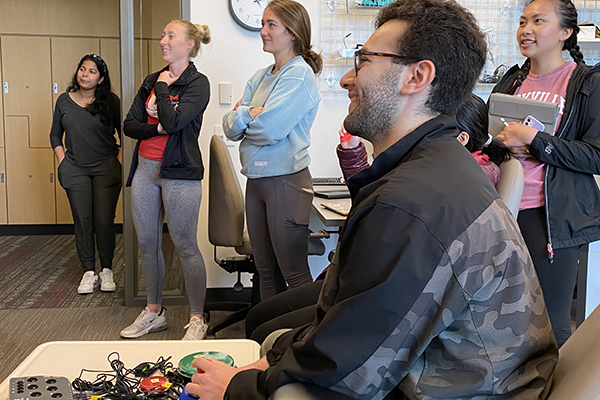 The goal is to grow the program to include more people with physical disabilities. To do so, Hawkins-Chernof needs equipment. She's building partnerships with organizations such as The AbleGamers Charity and the MO Better Foundation to create adaptive gaming kits. When gamers register for the program, they can request assistive technology support. Hawkins-Chernof sets up consultations to help personalize kits for each gamer, including teaching them how to use it. At the end of the program, gamers keep whatever tools work for them and Hawkins-Chernof orders new equipment to replenish the kits.
"The idea is not to simply throw equipment at people," she said. "Our goal is help people play video games, and make friends while playing video games, so they can continue to play video games." She also stresses the importance of people with and without disabilities playing together. "There are a lot of programs that exist for just people with disabilities. Our program is not like that. We want everyone to be included and feel like they belong."
Maryville occupational therapy students participate in the program by playing the games. They also complete a capstone project for their graduate coursework around the gaming league. Most recently, the Maryville students helped build the adaptive gaming kits and created tutorial videos that can be used by gamers, family and friends to supplement consultations.
"The program is a year-round, service-learning project where students collaborate in small groups and receive support from a faculty mentor. The purpose is to provide meaningful, innovative and authentic learning experiences for our students while they also work to improve the lives of people in the St. Louis area," Hawkins-Chernof said.
The gaming league is one example of how the health professions field of occupational therapy is growing. Occupational therapists help people of all ages live their lives to the fullest.
"Gaming is a gateway to help people in more areas of their life, so they can do the things they need and want to do," Hawkins-Chernof said. "It's a skill to learn how to use this adaptive gaming equipment, which applies to them using a computer or their phone. And if we can get their skills up while they're in high school or as young adults, they'll be poised to get a job. We have such an untapped number of people with disabilities who want to work."
Preparations are underway to increase the number of Maryville students playing the games, including building partnerships with students studying in Maryville's Game Design Program and the Maryville Gaming Community Club student organization. Future plans also include hosting in-person gaming events on the Maryville campus.
"It will be an opportunity for students of all abilities to learn about adaptive gaming," Hawkins-Chernof said. "Most of the assistive technology is something that people don't see every day. It's important for our students to learn about this equipment as they pursue professional careers so that they can continue to make things accessible. And so that they know why things need to be accessible: so that everyone can play."