Reading time: 7 minutes
Over the past three years, Maryville University's online programs have grown exponentially, expanding under the leadership of Dan Viele, dean of the School of Adult and Online Education, and a talented team of instructional designers and technical developers who are experts in transforming on-ground courses into digital learning experiences.
The design studio, which features a green screen and lightboard technology, is where some of the most visible innovation happens. Professors walk around in equations, create webinars and podcasts, film an interview in front of the Eiffel Tower, and pull in graphics with a live key, much like a TV weather reporter illustrates storms.
"We've built an active online learning environment and introduced content with exciting new tools," says Viele. "This new infrastructure puts Maryville out front in the region. We're one of few schools that has an in-house team dedicated to developing the University's courses."
"This new infrastructure puts Maryville out front in the region. We're one of few schools that has an in-house team dedicated to developing the University's courses."
Typically, Maryville's course designers develop three- to eight-minute learning objects—or demonstrations, or conversations—for each online course to help students build insight along the way. "We modularize the content, and students can replay those segments over and over if necessary," Viele says. "It's technology like this that sets us apart."
Online Course Design
Pamela Bryan Williams, director of learning design and development, manages the instructional design staff. As a first step, the team walks professors through the process of re-envisioning their individual courses for the online environment.
"We talk with faculty so we can understand their teaching style, sketch out their vision, and assess how best they engage students," Williams says. "We work together to ensure every course is effective and exciting online, and that students and faculty keep connected throughout the learning process."
Somer Anderson, assistant professor of accounting, taught and developed both online and on-ground courses for five years before joining Maryville's faculty last fall. "The biggest challenge in moving a course from face-to-face to online is not being able to see the students' faces to determine how they're processing the information," Anderson says. "Are they getting it? Are we going to fast or too slow? In online accounting courses, we use LearnSmart technology to help us gauge this aspect of the transition."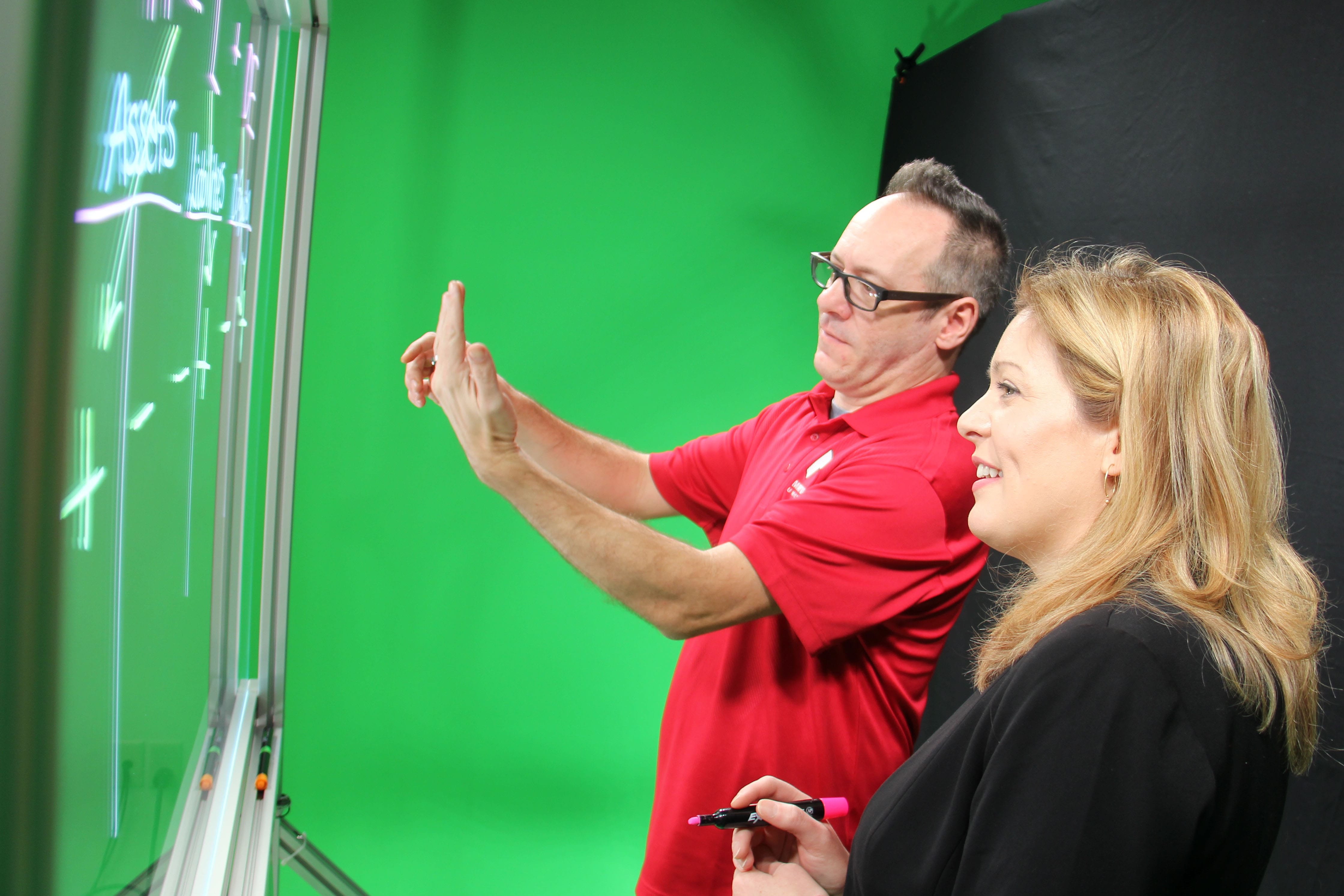 Another challenge in transitioning an on-ground course to the online environment is finding ways to demonstrate complex material without the ability to draw on a whiteboard—but using the lightboard and screen capture has proved effective in replicating that experience, she says.
"Maryville has really transformed the online development process," Anderson says. "At other universities, I've been handed a textbook, an old syllabus, and a due date, and that was the extent of development assistance provided. At Maryville, I sat down with Pam at the beginning of the process to envision my course, and she then offered the tools I needed to make that vision come to life."
Williams also makes it possible for a faculty member to focus on bringing in content knowledge, while other members of the team work in the background on the administrative tasks needed to bring the course to life, Anderson says.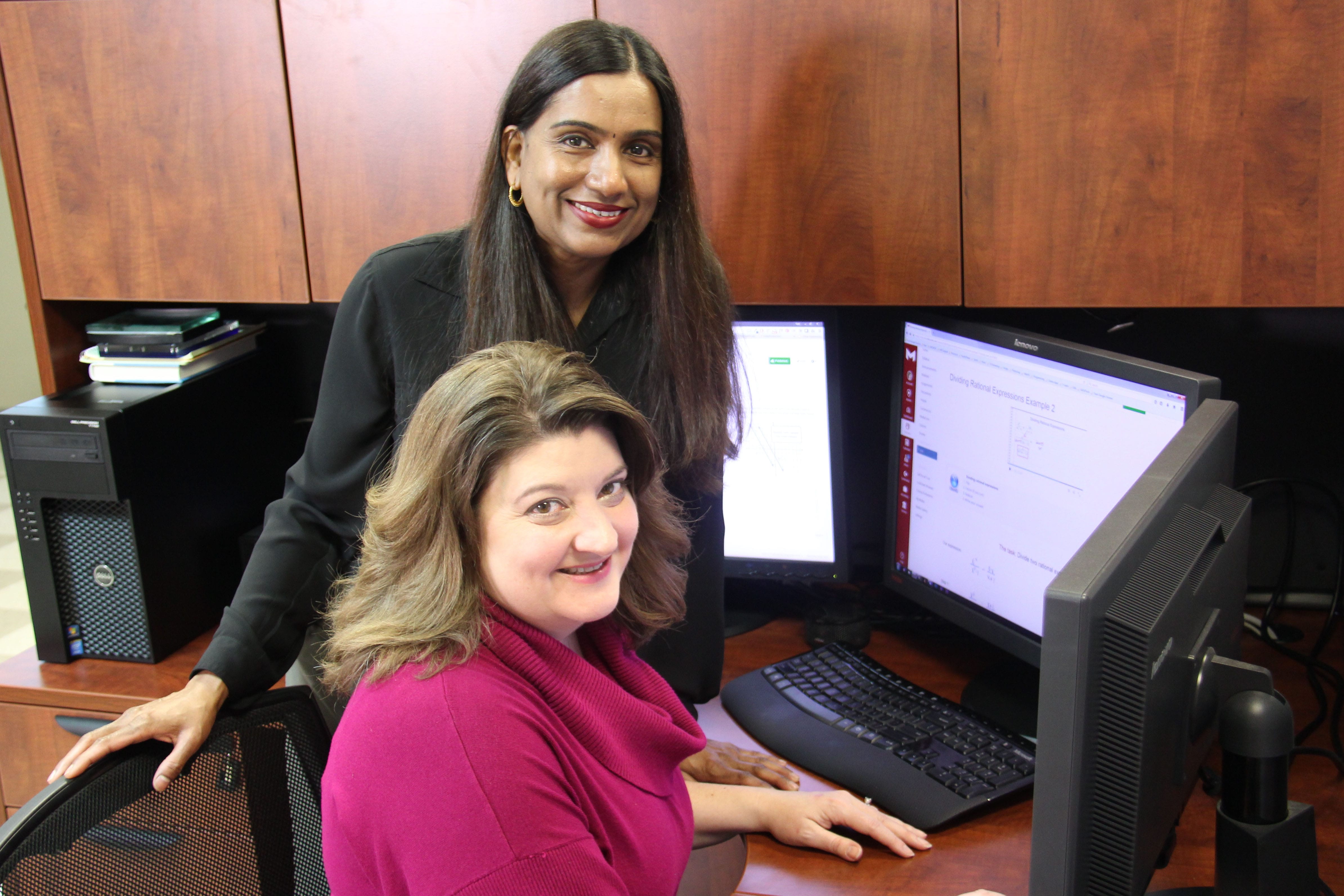 Sharmila Sendilkumar, a math instructor, taught her first online class in intermediate algebra during the spring semester.
"I had a complete orientation from the team, but it didn't stop there," Sendilkumar says.  "I was in constant touch with them regarding the course, from setting up the syllabus, to how to teach online, to grading. They made sure everything ran smoothly."
Williams says professors often tell her they had no idea online teaching could be so robust and effective—or that they would come to know their students so well.
Partnerships Benefit Students
Maryville's online courses are successful because the development happens through partnerships between academic program directors, faculty members, and the School of Adult and Online Education's design team, Williams says.
"We truly believe that through these collaborations the opportunity to engage students in the learning process is limitless," she says.
Producing courses in formats that bring content to life, and that allow students to choose how and when they access that content, is critical to twenty-first century higher education, says Viele.
"It's important to note that innovation comes in many forms for us," Williams says. "It's not just the wizardry that happens in the green room; it also includes types of assignments where students are engaging in different ways, custom imagery, and student interaction and engagement with the content.
"The green room gives us the ooh-ah-factor, but there's so much more," she says. "Overall, we want it to be seamless for the student."
Desmond Eddins is one of thousands of Maryville students who take advantage of online education.
A department manager for Dierbergs Market for nearly 30 years, Eddins, 49, plans to change careers in another year, when he completes his BS in business administration. Most of his classes have been online, a flexibility that has allowed him to take a big career leap at a time when many of his colleagues are thinking about retirement.
"I've enjoyed my work at Dierbergs, but at this point in my life I want to give back to my community, and help kids and families in need," Eddins says.
As a teenager, a severe case of scoliosis could have meant a life spent in a wheel chair for Eddins. When his family could not afford the treatment he needed, a children's medical organization made surgery and rehabilitation possible.
"Taking classes, going to school can be challenging," says Eddins, "but Maryville makes it doable. I just keep thinking about that degree. I hope to work for a health care organization that helps improve children's lives."
By devoting behind the scenes talent and resources to ensure high quality and effective online courses, Viele says, Maryville addresses educational needs for undergraduate and graduate students across academic programs, wherever they may be located.
"Nursing, business, cyber security, education—students in all disciplines and at all academic levels seek convenience and flexibility," Viele says. "We don't expect busy adults who have worked all day to drive across town and sit for four hours in a classroom. We're also connecting with students who live too far from a university to attend classes, and those who seek our high quality programs from all points beyond our St. Louis campus."
This story was originally published in the Spring 2016 edition of Maryville Magazine.