Reading time: 6 minutes
When swimmer Giordan Harris was injured while training for the 2012 Olympics, his doctor told him he shouldn't swim until he healed.
"I was 18 years old, in awe of Michael Phelps, and my race only lasted 26 seconds," he recalls. "Nothing was going to stop me. I was going to swim, even if my arm was broken."
At 23, Harris is more determined than ever. He landed in St. Louis barely a week after competing in the 2016 Olympics in Rio to become one of the newest members of the Saints' fledgling swim team. He grew up on the Marshall Islands in the South Pacific and has traveled around the world competing in elite 50-meter competitions.
Olympic Memories
"Both London 2012 and Rio 2016 were the greatest moments of my life," Harris says. "I've spent my whole life swimming and working towards these goals."
"For both games, from start to finish, I was just in complete awe; I was amazed and astounded by everything, every little detail," he says. "I remember the London 2012 opening ceremonies — as they announced our country, and we walked through the corridor to enter into the Olympic stadium and paraded through, the roar of the crowd was so loud I could feel the vibrations within me." Immediately after the parade around the Olympic stadium, Harris hugged his mother.
"We both started tearing up, in disbelief and sheer happiness," he recalls. "There is no one else I would rather share the experience with. My mother has sacrificed, and still sacrifices, so much and works just as hard as I do to get me to where I need to be."
"I've fallen in love with the process, fallen in love with the experience."
Harris has yet to meet Phelps.
"Phelps, being not only the greatest swimmer who has ever lived, but also being the greatest and most decorated Olympic athlete in history, I was always too nervous to approach or talk to him," he says. "But I've met other swim idols of mine. They're extremely friendly; the famous and elite swimmers, too. They help the younger swimmers by sharing stories of their experiences to help us on our journey."
Harris hopes to expand his Olympic experiences.
"I've fallen in love with the process, fallen in love with the experience," he says. "The friends I've made along the way have become family to me, and yes, I will be working towards Tokyo 2020."
It's not just the competition, he says. It's the sense of community.
"There is just something special about the swim community. We may all be competing against each other, but at the end of the day we are all athletes, and no matter the flags we carry, we cheer each other on," Harris says. "Watching Phelps push the limits of swimming, doing things that nobody thought was possible—the whole swim world cheers for him, because at the end of the day, he is human just like us, and regardless of the country a swimmer represents, we all love the sport and will cheer for and help our fellow swimmers achieve boundless feats."
The Swimmer Becomes a Saint
The decision to spend the next few years in the Midwest surprised some aquatic athlete watchers, but not Harris.
"I had finished two years of college in Iowa and taken a year off for Olympics training in Illinois," Harris says. "I like the Midwest and it was time to finish my education." Harris credits an Oceania Australia Foundation Scholarship for providing his first opportunity to study in the U.S.
As he dove into his next college search, Erica Rose, who last spring was named head coach of Maryville's men's and women's swim and dive teams, was busy recruiting for the men's squad. It was early June, her birthday, and she opened an email to find a message from Harris.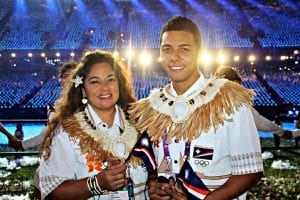 "He said he was looking at a few Division II schools in the Midwest and wanted to talk to me about Maryville," she says. "I checked out his bio and couldn't believe what was about to happen. Last year, I had one male on my team. This year I have nine, including an Olympic swimmer. It was definitely our lucky day."
Harris grew up on Ebeye Island, a mile-long coral atoll halfway between Australia and Hawaii. The densely populated sliver of land measures 80 acres, and is home to 15,000 people. It is one of the poorest nations in the South Pacific.
"Growing up I was very fortunate to be a part of the Ri-katak education program, funded by the U.S. Army," Harris says. "They choose four or five Ebeye kids each year to attend schools on the base at Kwajalein from kindergarten into high school. That program really helped those of us who qualified."
Harris says "all the right things" have happened to him and he'd like to see the people of his homeland, especially the children, prosper and grow. A cyber security major, Harris wants to return to Ebeye to help build the island's economy.
"Everything I'm doing now will get me back to my country," he says. "Swimming got me off the island. I've traveled and received scholarships to finish college, which allows me to continue swimming. I want to see more Ebeye kids have those opportunities."
This story also featured in the Fall 2016 edition of Maryville Magazine.