Maryville community members are increasing their digital expertise through the new MiTech Bar, located in The M Store.
Students, faculty and staff can stop by the new space for technology support services for their Apple products. The MiTech Bar will also offer a series of learning sessions to make using an Apple device easier, including sharing shortcuts, tips and tricks for some of Maryville's core apps like RedShelf and Canvas.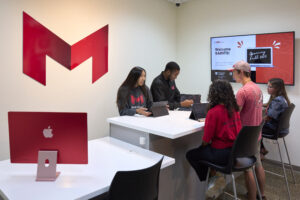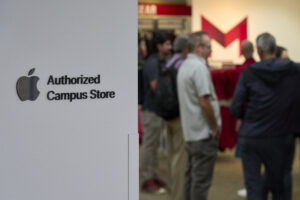 Additionally, the MiTech Bar is an Apple authorized campus store. An array of Apple products are available for purchase including Apple Watch, iPad, Mac and AirPods and accessories such as charging cords and power adapters.
Purchasing products is the same as purchasing through the Apple Store. However, at the MiTech Bar, students can use financial aid dollars toward purchases and faculty and staff can utilize payroll deduction.
"We're excited to provide another opportunity that expands the learning and living community for our students. We believe this addition will heighten and elevate their learning journey," said Nina Caldwell, EdD, Vice President for Student Life. "We are thankful to the dedicated staff who continue to give their time and expertise to help our students learn the latest technology and digital literacy skills. We're proud to put the students at the center of everything we do."
The new MiTech Bar is a second space for community members to access technology support services. The Digital Learner Experience (DLX) Technology Service Desk (formerly the IT Help Desk) has moved from the lower level of Reid Hall to the second floor of the University Library. This new space allows more visibility and forward-facing opportunities with the University community.