Reading time: 7 minutes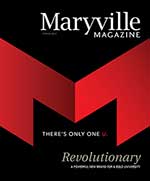 When students talk about it, the growing diversity on Maryville's campus clearly translates into a good many things. It means students share interesting and compelling stories with their peers and others, they develop meaningful friendships, and they expand their knowledge of ethnic customs and traditions, all of which gives them a greater sense of belonging in a global family. The Multicultural Scholars Program is one way Maryville fosters these valuable opportunities—and at the same time provides access to a college education that might otherwise be out of reach.
Senad Sabangic is a first-generation college student who begins his third year studying physical therapy next fall. Through the Multicultural Scholars Program, he discovered Maryville is a much more diverse community than he first thought. "I didn't know we have students from so many different countries on campus," he says. "It's exciting."
For Sabangic, a Bosnian immigrant from St. Louis, the program has provided more than an opportunity to learn about other cultures; he has also developed valuable friendships. And without the scholarship, he says, he could not afford college.
The Sabangic family left their home country in the aftermath of the Bosnian War. "My mother didn't get to finish the fifth grade and my father is a mechanic," he says. "I needed this scholarship in order to go school."
Multicultural Scholars receive a half-tuition discount for four years, provided a student continues to meet program requirements.
President Mark Lombardi, PhD, provided the original directive for the program in 2009 and sees its growth as an institutional imperative. "Our Multicultural Scholars program is part of a long-term strategy to have Maryville University reflect the diversity and inclusiveness of the American experience," he says.
Christie Cruise-Harper, director of multicultural programs, joined Maryville in 2011. Tasked with increasing retention in the scholarship program, she immediately implemented a structure that continues to show measurable success. Her students boast a cumulative grade point average of 3.3 on a scale of 4.0, and in each of the past two years, 87 percent of all first-year Multicultural Scholar students returned—matching Maryville's overall retention rate.
When a university seeks to increase student diversity, recruitment programs must go hand-in-hand with efforts to build an inclusive campus environment; otherwise, minority students feel isolated and are more likely to leave the institution long before graduation, says Cruise-Harper. Maryville's Multicultural Scholars Program is grounded in this dynamic approach.
The scholarship program has always been open to any student who wants to explore diversity topics and work toward a more inclusive campus environment.
Maria Gonzalez, who completed her freshman year in nursing this spring, grew up in Mexico. In high school, Gonzalez moved with her family to California. Being so far from home, she appreciates the camaraderie fostered by the Multicultural Scholars program.
"It's very different when a student comes in and has a support group," Gonzalez says. "I met friends right away. The beautiful thing about the Multicultural Scholars program is so many cultures and races are involved."
The program also supports students who are given Multicultural Dean's Awards, established in 2012 to provide partial tuition discounts. In both programs, students are asked to keep journals, write reflection papers, participate in cultural outings throughout St. Louis and help develop campus-wide programming on diversity topics.
Through these structured activities, students develop cultural competency by recognizing customs and traditions of other nations and ethnicities, build leadership skills and become strong voices for advocacy, says Cruise-Harper.
Ta'Mare Banks, a senior nursing student this spring, attended a diverse high school in St. Louis. She was nervous about being in the minority when she first arrived on campus, but the Multicultural Scholars program helped her meet other students who could personally relate to her experience. In the long run, Banks says, those relationships will make her a better nurse.
"A patient can be any ethnicity and nurses need to be culturally competent to provide holistic care," she says. "Through this program, I learned so much about different cultures I previously didn't know. It sticks with you."
Bryan Lopez, originally from Mexico City and now of St. Louis, wanted to pursue his studies close to home. He is a first generation college student majoring in financial services. Although he's completing his junior year this spring, Lopez says his first year in the program set the foundation for his success. As much as Multicultural Scholar students learn about each other, he says, "we also learned about ourselves."
Communicating with people from different cultures and countries can be challenging. Through the program, students learn to have, and eventually lead, those difficult conversations, says Cruise-Harper.
"Being in the program helps me learn to talk to people," says Nhat Nguyen, who completed his sophomore year in biology this spring. The scholarship paves the way for him to attend school—and also allows his family to save for the education of his two younger siblings.
JoLynna Kohler, a graphic design student from Imperial, Mo, will begin her third year as a Multicultural Scholar in the fall. Growing up, she experienced schools where she was the minority. She understands how it feels to be treated like an outsider. "I would never want anyone to feel the way I did," she says.
As part of the Multicultural Scholars program, Kohler feels she is making a difference, while also learning about others. "Hearing everyone's points of view and their personal stories makes you think and realize a lot more," she says.
White students are cultural, too, and it's important they become involved, like Kohler, in strengthening Maryville's inclusive environment, says Cruise-Harper.
"We know from research that students of color can't be the people who are creating that inclusivity. They are in the minority and that's already a huge job. And if they are left to create it, it impacts their retention at the institution."
When white students talk about diversity and serve as an advocate or an ally, it's easier for students of color to be part of those conversations because then they're not the only students driving the conversation, Cruise-Harper says.
The success of Maryville's Multicultural Scholars program is attracting national attention. Cruise-Harper and her staff have presented it as a model to university and conference audiences. The program has also garnered an Innovative Program Award from the regional chapter of the Student Affairs Administrators in Higher Education (NASPA) organization.
The enthusiasm of the Maryville scholar-students is the most meaningful recognition for the Multicultural Scholars program, Cruise-Harper says. "The students want more," she says. "As we continue to grow, I'll need to plan for more together time."
Sabangic says the many positive Maryville relationships he has developed are the keys to his success. "Maryville is a family, it has that kind of energy," he says. "And it's a lot easier to learn when you have family supporting you."