When vice president for student life Nina Caldwell, EdD, arrived at Maryville University in 2004, she was keenly aware of her unique status as an African American woman on campus and in a leadership role. 
Everywhere Caldwell turned, she saw few people who looked like her. Then, after she and vice president of enrollment Shani Lenore-Jenkins, who's also black, began meeting informally, other female African American staff joined them. Together, they supported each other professionally. 
Their bond began to extend into a more personal realm as they navigated their workplace and the predominantly white St. Louis County in which it's located. 
"We talked about things like, 'Where can I go to get my hair done? Where can I buy pantyhose the color of my flesh? Where can I go to worship?'" Caldwell said. 
The group eventually became the Mocha Tea organization.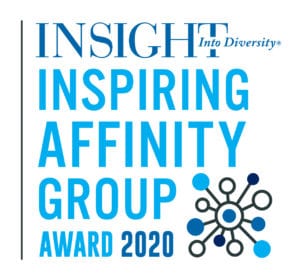 In April, Mocha Tea received INSIGHT Into Diversity magazine's 2020 Inspiring Affinity Group Award. The award honors programs that inspire and encourage higher education professionals to join a campus that features employee resource groups offering mentoring, collaboration, social networking opportunities and more.  
"This award speaks to the importance and value of the work that we do," Caldwell said. 
'Women of Color in Professional Spaces' 
After Maryville began drawing more diverse students by ramping up its emphasis on diversity, Mocha Tea launched three student groups: Latinas Unidas for Latinx students, Spilling the Tea for African American students and Boba Chai for Asian American students.  
Today, Mocha Tea, which serves faculty and staff as well as students, now boasts 50 members. It provides support and programming for women of color through events including book clubs, lunch 'n learns and mental health talks on topics including coping with stress. 
Stress may stem from code-switching — having to alter one's authentic language or appearance to fit into different environments — and microaggressions, which may include someone touching another's hair. Stress also comes from being stereotyped, according to Mocha Tea committee member Ashley Storman, EdD, program coordinator for diversity and inclusion. 
"Like the stereotype of the 'crazy Latina,' or labeling Asians as 'the good girls,'" Storman said. 
Staff members like Storman serve as role models for diverse female students while offering practical support and mentoring. 
"I think it's important for them to see women of color in professional spaces, to be able to put a face on that," Storman said. 
Eyeing the Future 
When diverse students don't see people like themselves in professional arenas, it makes it difficult to imagine their own futures, according to Maricella Reyes, also a program coordinator for diversity and inclusion, who identifies as Latina and serves as a Mocha Tea committee member. 
"It can be hard to find someone who relates to your story and your culture," Reyes said. "And when you don't see that, it's hard to find a path to becoming that." 
When Caitlin Ladd, '09, arrived at Maryville to pursue an undergraduate degree in psychology, there was not yet a Mocha Tea group for female African American students like herself. 
"There was no sounding board, no safe space, no one to voice my concerns to," Ladd said. "It felt stifling." 
Now that Ladd is Maryville's director of admission and advising for on-campus programs and strategic partnerships, she's providing that safe space as a mentor. One African American student came to her asking for help with changing her major. Through Mocha Tea, Ladd introduced her to a professor in the academic program she was considering. 
"If there had not been that professor to connect with, there may have been some concerns about the student possibly dropping out of school because of the lack of support," Ladd said. 
Retention — of diverse students, staff and faculty — is an important goal of the organization, which in 2018 received Maryville's President's Award for Strategic Leadership in Diversity and Inclusion. Mocha Tea leaders also presented at the National Association of Student Personnel Administrators (NASPA) 2019 annual conference. This latest recognition from INSIGHT Into Diversity magazine further shows that Mocha Tea fills an important need, according to Caldwell. 
"As these students become leaders, I hope they will create this kind of support in their future workplaces," Caldwell said.