Congratulations to Maryville for being named the Esports Collegiate Program of the Year!
Presented by the Esports Awards, the recognition honors a program that has significantly contributed to the world of collegiate esports by improving the lives of players drastically, advancing the standards of collegiate esports and forging a path to professional play for individuals and teams.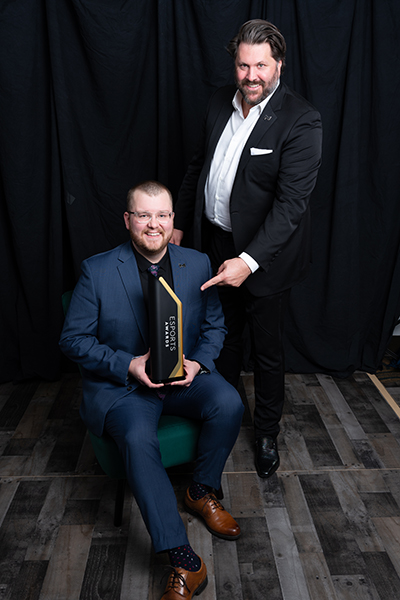 "We are humbled and excited to receive the award for the Esports Collegiate Program of the Year," said Maryville's Director of Esports Dan Clerke, '18. "This is something we've been striving for over the last six years since the program began. I'd like to thank our players and staff members who put in the work every single day that make things like this possible."
Maryville's dominating esports program boasts four national championships for League of Legends and Overwatch, as well as 18 major tournament titles. The program has sent multiple players to the professional scene.
"In the future, our eyes are set on increasing the accessibility of esports to students in our backyard," Clerke said. "We're working on a couple facilities that will serve as hubs for the St. Louis community. We want to host high school tournaments and state championships, and also host daily play so that the average gamer can feel like a rock star."
From the bottom of our hearts, thank you. ❤️

We are the 2021 Collegiate Esports Program of the Year! #MUWIN pic.twitter.com/ZNXNjNm7DV

— Maryville Esports (@MaryvilleGG) November 20, 2021
We wouldn't be here without the support of you all, and we can't thank you enough.

Here's what our leader Daniel Clerke had to say about what this award means to us here at Maryville. ❤️ pic.twitter.com/iC4ncf5EzL

— Maryville Esports (@MaryvilleGG) November 20, 2021
BREAKING: Maryville wins Esports Collegiate Program of the Year! Congrats to Dan, Jordan, Andrew, Lonnie, and especially to our League of Legends and Overwatch teams. Let's keep it going! 🏆 pic.twitter.com/uY7aLdZJ3p

— Maryville University (@MaryvilleU) November 20, 2021
And the winner of the Esports Collegiate Program of the Year award is… @MaryvilleGG from @MaryvilleU

CONGRATULATIONS!! 🏆 pic.twitter.com/2BmLOev1mH

— Esports Awards (@esportsawards) November 20, 2021
On the trophy shelf where it belongs 😌🏆 pic.twitter.com/Vth5CKcz84

— Maryville Esports (@MaryvilleGG) November 22, 2021