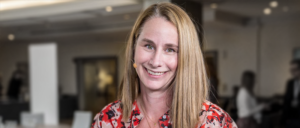 Maryville University Appoints Renowned AI Leader to Board of Trustees
Maryville's continues to diversify its Board of Trustees to build a sharper focus on innovation.
[St. Louis, MO, February 8, 2023] – Distinguished Engineer and Cognitive Scientist Beth Rudden has been elected to the Maryville University Board of Trustees.
"We are pleased to welcome Beth to our board. This addition couldn't be timelier, as we continue to grow Maryville's goals of access and opportunity," said Mark Lombardi, Ph.D., president of Maryville University. "Beth has dedicated her career to giving back to the innovation community, by honing her expertise in data science, AI, anthropology and other cutting-edge work. Her insights will accelerate Maryville's drive to create an active learning ecosystem that revolutionizes higher education expanding access and opportunity for all."
"I have experienced first-hand the drive that Maryville has to adopt the best technology to help serve their students," said Beth Rudden. "I couldn't be more excited to join this community of passionate leaders who want to continue to pave the way into the next generation of higher education."
Beth Rudden, MA
Beth began her career at IBM, with the background of technical development and IT architecture. Her growth in data storytelling mixed with her mastery in anthropology paved the way for driving transformation in cognitive science and trusted AI. She transitioned out of her corporate role into other roles that supported her goal of giving back to the innovation community, by designing methodologies that empower humans to thrive in arenas of access and opportunity. She holds a patent that supports the control of access to files and has a deep portfolio of other achievements which supports her ethos of transforming lives through ethical data use.
Beth's introduction into the Maryville ecosystem is the mortar of the university's ethical AI initiatives and reinforces the exploration of using ontologies; language models that showcase an ecosystem of how things are interconnected. As Maryville deepens their capabilities in AI, fairness, transparency, and accountability will remain as a consistent undercurrent to protect the privacy and security of faculty, staff and students, which keeps Maryville accountable for how data is handled.
About Maryville University
Founded in 1872, Maryville University is a comprehensive and nationally ranked private institution with an enrollment of 10,000 students. Maryville offers over 90 degrees at the undergraduate, master's and doctoral levels, as well as several certificates that align with the undergraduate and graduate education levels. Maryville is recognized as the second fastest-growing private university in the United States by The Chronicle of Higher Education, serving students from all 50 states and 56 countries. More than 17,000 Maryville alumni work and live in the St. Louis region.