Maryville University appoints Dr. Nina Caldwell Vice President of Diversity, Equity and Inclusion
Maryville's focus on DEI continues to be the backbone of its Access and Opportunity Strategy.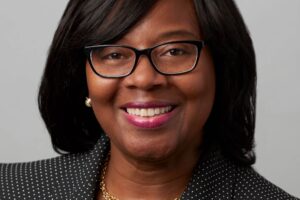 [St. Louis, MO, January 25] – Dr. Nina Caldwell, MBA, Ed.D, Vice President for Student Life at Maryville University will be appointed to the role of Vice President for Diversity, Equity and Inclusion effective June 1, 2023.
This role brings together several university wide efforts in DEI begun sixteen years ago and integrates our work campus community work with the broader St. Louis region.
"This role follows suit to the commitment and passion that I have for Maryville, and though this will be a different role, this still supports the heart and the direction in which the university is going," says Dr. Caldwell. "I have had many roles in student life over the years and DEI is an area that I am most excited to deliver to the Maryville ecosystem."
"Nina has served our students as VP of Student Life for years with passion, commitment, and exemplary success.  She will bring those qualities to our DEI plan and move Maryville forward to build on our success and truly expand access and opportunity for all."  said Dr. Lombardi, Ph.D. president of Maryville University.  "I am excited to work with her in this new role."
Dr. Caldwell served in Student Life at Maryville for over 18 years, beginning her time in 2004. Prior to joining Maryville, Caldwell worked for several years in the student services area of higher education, primarily in California. Originally from central Illinois, Caldwell began thinking of a career in higher education, and specifically student life, while she was a graduate student at Illinois State University, pursuing a master's degree in counseling. She received a graduate assistantship in ISU's Residential Life Office.
Caldwell holds a bachelor's degree in elementary education from Dillard University in New Orleans, a master's degree in counseling from Illinois State and her doctorate of education in organization and leadership in education from the University of San Francisco. She also earned a MBA at Maryville.
About Maryville University
Founded in 1872, Maryville University is a comprehensive and nationally ranked private institution with an enrollment of 10,000 students. Maryville offers over 90 degrees at the undergraduate, master's and doctoral levels, as well as several certificates that align with the undergraduate and graduate education levels. Maryville is recognized as the second fastest-growing private university in the United States by The Chronicle of Higher Education, serving students from all 50 states and 56 countries. More than 17,000 Maryville alumni work and live in the St. Louis region.