An abundance of student interest groups and activities make Maryville students feel at home on campus — even if they don't live here.
When Kelly Freeman entered Maryville University in 2013, she wondered whether being a commuter student would prevent her from knowing what was happening on campus and becoming involved.
"I was very nervous," Freeman says.
But soon Freeman faced a very different dilemma: fitting the many opportunities she'd discovered into her schedule. Her interests range from the Empower feminist group to the Inclusion at Maryville multicultural organization to the Association of Black Collegians (ABC).
"We are a highly active campus," Freeman says.
Milestone: 100 Student Organizations
That wasn't always the case, in part because the number of students who sought involvement was limited. During the 2000-2001 school year, for example, enrollment was 3,000 students. There were just 22 student groups and 100 organized events.
Fast forward to this year: Maryville's enrollment is nearly 7,000 students, with the freshman class alone having increased by a staggering 47 percent over the previous year. Student organizations topped 100 for the first time and the number of registered events has climbed to 1,300.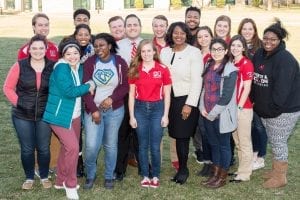 Students often take the lead in creating new activities and clubs, according to Vice President of Student Life Nina Caldwell, EdD.
"We are a student-centered campus. We want students to bring their gifts and talents to help make us better," Caldwell says. "If a student doesn't find a club that speaks to their passion or interest, we tell them, 'Come talk to us,' and we help them develop this experience and invite everyone to join."
Clubs spearheaded by students include Notorious — the acapella singing group,
the Muslim Student Association and the ABLE organization of students of all abilities.
The growth in campus activity is directly related to the increase in Maryville's enrollment. It's a matter of scalability, says Brian Gardner, assistant dean and director of student involvement.
"I see greater opportunity for students — access to new experiences, ability to grow and learn more, the opportunity to do things with new people that students wouldn't be able to do without the growth," he says. "For instance, I get notes from alumni every year after the leadership trip to Disney about how jealous they are that we didn't do that when they were here."
Maryville now boasts students from all 50 states and 55 countries. And every one of them has dozens of ways to learn from each other — or just enjoy being together, Gardner says.
'We All Have Something to Share'
Gardner is a longtime witness to the growth in student activity. When he first arrived on campus as a freshman 18 years ago, Maryville was what he called a "suitcase campus." Even resident students disappeared at the end of the week.
"Most students lived within two hours of campus. They packed a suitcase and went home for the weekends," Gardner says. "But now there are times I'm here at 11 p.m. and they're lined up outside Louie's to get a snack."
A member of the student involvement team for the past 14 years, Gardner has been part of targeted efforts to make Maryville the center of activity it is today. It's been a multi-pronged approach involving students as much as staff.
"This growth didn't happen by accident," Gardner says. "We were intentional about making student life as easy and enjoyable as possible for students. We created opportunities for students and with students, and all along the way they brought their peers with them."
One popular event is the annual Foam Party, which is now considered a Maryville tradition.
"Nearly 900 students showed up this year to dance with light sticks in a pit filled with foam," Gardner says.
Another favorite, the annual Cram Jam, offers a nighttime breakfast and prizes to students who study together for finals. And a thriving Quidditch club invites students to take part in a sport played with broomsticks that's right out of Harry Potter.
Like Freeman, sophomore Ulices Zuniga is a member of the ABC.
"I want to learn about other people's cultures," Zuniga says. "We all have something to share."
Zuniga is from Mexico. He enjoys talking with other students about his family back in Yucatan and his favorite childhood foods. When he first visited Maryville and learned about the Latino Student Alliance and other organizations that foster cultural understanding, Zuniga knew he belonged here.
"Maryville is welcoming, and people are curious instead of judgmental," he says.
In addition to participating in diversity activities, Zuniga plays soccer, football, basketball and ping-pong. He attends campus concerts and goes on laser tag outings. "I do a little bit of everything," he says.
Zuniga, who lives on campus, immerses himself in multiple environments for both personal and professional reasons.
"I'm going to be a teacher," he says. "I will have students who come from many different backgrounds and social classes. You have to understand their experiences or you won't be able to teach them."
"Student Life is an integral part of shaping the student experience on college campuses," Caldwell says. "These experiences provide students with the opportunity to learn, grow and thrive."
This article first appeared in the Spring 2017 edition of Maryville Magazine.