Those honored with Maryville University's 2017 Outstanding Faculty Awards hail from different areas within the University, but share common threads. They support the University's mission and value collaborations with campus and other communities.
This year's faculty awardees elevate their respective professions by embracing technology as a learning tool and weaving the connection between teaching and research. This year's recipients include: John Baltrushunas, Kristen Bruzzini, Guangwei Fan and Sandy Ross.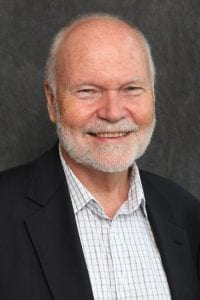 John Baltrushunas
John Baltrushunas, director of the studio art program in the College of Arts and Sciences, is an artist with an understanding of material, process and craft. Using contemporary digital tools, he has created a contemporary design education for his students. Through his knowledge of art history and his culinary expertise, he weaves together quality Study Abroad or Study Away experiences; the lessons are deep in art, politics, history, class struggle, architecture, geography and culture. He has the ability to see relationships and make connections visible to students.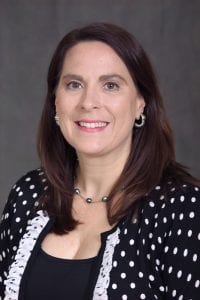 Kristen Bruzzini
Kristen Bruzzini, director of the biology program in the College of Arts and Sciences, helps manage a complex teaching environment, using breadth and creativity to approach student learning by embracing both digital options and simple paper models. Utilizing origami, video projects and iPad apps, she works all angles to make the complexities of her discipline accessible and memorable. Bruzzini also uses a Center for Teaching and Learning grant to support the development of a lab manual, using action research to assess the learning impact of the manual.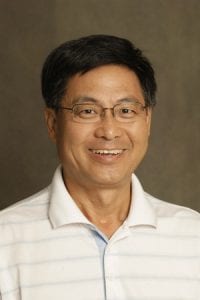 Guangwei Fan
Guangwei Fan, interim director of actuarial science and mathematics in the College of Arts and Sciences, has made contributions in all areas of teaching, scholarship, service and technology. He is at the forefront to contemporize the curriculum, the tools, and the experiences of all students, and has co-authored e-books that have replaced the textbook for an Actuarial Science course. Fan has demonstrated his commitment to the students, the faculty, the curriculum, the alumni base and the program's professional relationships.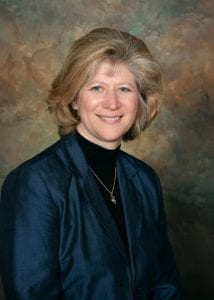 Sandy Ross
Sandy Ross, professor of physical therapy in the College of Health Professions, has been a motivating force behind the transformation of the physical therapy program transition from a bachelor's degree to a well-respected clinical doctorate program. She has taught almost every course in the program, exceling in the difficult courses of Kinesiology and Research, and her students' research projects are chosen for presentation at the highly selective American Physical Therapy Association annual Combined Sections Meeting. In her specialty area of Pediatrics, she inspires a new generation of pediatric practitioners by engaging her students with baby and young child lab days. Ross has quickly incorporated technology and the iPad into her teaching and students' learning.