Maryville University's Esports club continues to fill the rafters with championship banners after winning the League of Legends Collegiate Championships.
The Maryville Esports team claimed its second national title and became the first American university to win the Collegiate League of Legends title with a hard-fought 3-1 victory over University of Toronto in the finals in Los Angeles.
"The coaches and players sacrifice their time and energy to be the best, winning the national championship was confirmation that they are the best," says Jarret Fleming, Maryville University's coordinator of athletics and recreation.
Video of the moment @MaryvilleGG became NATIONAL CHAMPS! Hoist that trophy!

🏆 #MUWIN #LoLCC @MaryvilleSaints pic.twitter.com/CjP69wyO8P

— Maryville University (@MaryvilleU) May 28, 2017
The championship team included Tony Chau, John Le, Andrew Smith, Cody Altman and Marko Sosnicki with Dan Clerke as team coordinator.
Intros for @MaryvilleGG at #LoLCC Finals

🎮@MaryvilleSaints @PlayMaryville @ulol pic.twitter.com/BEn1zlqlUy

— Maryville University (@MaryvilleU) May 28, 2017
Maryville also defeated rival Robert Morris University (RMU) in the semifinals and the University of British Columbia in its first match during the tournament. Maryville had suffered its only defeat in over two years to RMU this past spring but the Saints were able to get past RMU in the semis with a 3-0 sweep in a win that ESPN noted as a "March Madness-like upset."
"The players had to deal with some adversity losing their first match ever to Robert Morris in the Midwest Campus Clash," says Fleming. "They really grew up and came together as a team."
Maryville qualified for the continental college championship tournament by winning the Campus Series North region. The University of Toronto was the South region qualifier while RMU and the University of British Columbia had qualified as wild cards.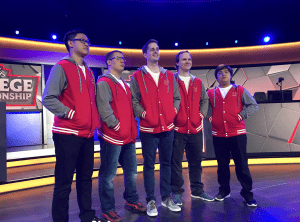 Maryville won its first title last season with a sparkling 40-0 record. The Saints picked up another title this past spring when it defeated Miami (OH) to capture the inaugural NACEsports Invitational championship.
"We will be in a good position to compete for another League of Legends national championship (in 2018)," says Fleming.
Maryville founded its Esports program in 2015, and was one of the first universities in the country to offer scholarships to Esports club students. Maryville is one of the six founding members of NACE. The organization has expanded to over 30 schools, including universities from South Carolina, Kentucky, Ohio and Nebraska.
Watch this short documentary about their journey to the North American Collegiate Championship!