Reading time: 1 minute
The digital archives in the Maryville University Archives collection are a treasure trove of memories and historical information.
One online browsing session can change the way you look at campus, after perusing through editions of The Gong (1961-1979) or The Summit (1977-1980) student newspapers. You can feel the excitement of Student Government Elections or the anticipation of new buildings opening.
The Gong dates back to the 1920s and the Meramec Campus in south St. Louis, but only the editions published on Maryville's West County campus are currently available online.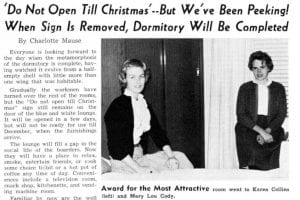 The November 27, 1961 edition, the second paper printed following Maryville's move from the city, is an incredible time capsule. The writers had so much to say about the new campus every inch of the newspaper is used. The students are settling in, Duchesne Dormitory isn't even completed yet—as detailed in "'Do Not Open Till Christmas'— But We've Been Peeking!" And neighbors donated farm equipment to the college.
Viewers of the digital archives can also explore current Maryville news. To see examples of recent Maryville student projects, check out the posters and presentations from the 4th Annual Undergraduate Student Research Conference. The conference took place this past April and allowed students the opportunity to present their work to the community. As items in the Digital Collections these student works are included in the Maryville Library Catalog.
Maryville University Archives is always accepting donations, especially of pictures or items that chronicle a student's experience at Maryville. For more information, email Emma Prince, university archivist.
Follow University Archives on Instagram: @maryvillearchives.