Along with campuses across the country, Maryville University will be observing International Education Week, Nov. 13-17. The week highlights international initiatives across campus and focuses on the University's goal of being a truly global institution.
"International Education Week emphasizes awareness of different cultures around the world, humanity and languages," says Esra Uysal, life coach and coordinator of the week-long observation. "It affirms the critical role international education plays at Maryville University as well as our efforts to be a diverse and inclusive community."
During the week, over 20 countries will be represented through different cultural activities and events. People can travel the world with virtual reality, get henna tattoos, taste different ethnic foods and experience live music and performances.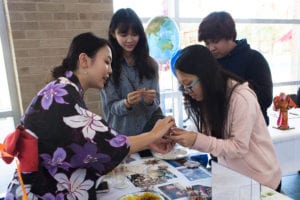 "All faculty, staff and alumni, and especially students, are an integral part of making this an above-and-beyond-week, where each and every one of us are change makers toward a more accepting, diverse and global Maryville culture," says Uysal.
Using the hashtag #IEW2017, International Education Week is a joint initiative of the U.S. Department of State and the U.S. Department of Education to promote programs that prepare Americans for a global environment and attract future leaders from abroad to study, learn and share experiences.
"Being able to share and show my culture during International Education Week is a great way to help other students understand where I come from and what I stand for as a person," says Norway native Kine Kleppe, a senior in the management and leadership program. "I am excited about showing photos, sharing food and performing a Norwegian song at the Festival of Nations on Tuesday."
"You might not realize that so many people around campus are international students and from a different culture, but International Education Week sets an environment where conversation can happen with all of them," says Sara Parrott, coordinator of International Student Success. "I really enjoy when it gets beyond the food, the language or the dancing, and meaningful conversations happen about the things that are really important about a culture; conversations where people come with curiosity and get to hear a different perspective."
Schedule of Events: Maryville University International Education Week 2017