Watching the news coverage of the coronavirus has become a daily ritual for Sang Tran, DBA, assistant professor of accounting for the John E. Simon School of Business, and his wife since the pandemic began.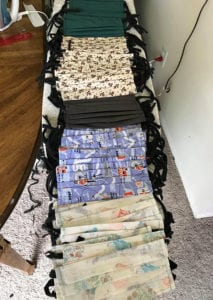 When they saw that those on the front lines were experiencing a shortage of plastic face shields and that face masks are recommended — and required in some places — when going out in public, they thought "we might be able to do something," he said.
"We figured that rather staying at home and doing nothing, we could use our time to help," Tran said. So, they went to Walmart, bought some fabric and a sewing machine and began to make cloth masks. At the time, Tran's wife had never sewn and Tran himself only had minimal experience. But they learned quickly and have now made more than 600 cloth masks.
The masks have been donated to many different groups of people throughout the St. Louis area — from Maryville faculty, to firefighters and police officers, to employees at their local Walmart. The entire Cherry Creek Apartment community was outfitted with cloth masks thanks to the couple.
Tran also worked with a friend who owns the Oriental Chop Suey restaurant in St. Louis. She donated free meals, and he provided a mask to go along with each donated meal. In particular, the Trans wanted to ensure that the Vietnamese community in St. Louis had the proper equipment to ensure their safety, as many of them are essential workers who continue to work during this time.
The Centers for Disease Control and Prevention (CDC) has recommended wearing a cloth face covering in public settings in order to help minimize the spread of the coronavirus. The coronavirus can be spread through speaking, coughing or sneezing when in close proximity to other people. So, face masks — like the cloth ones Tran and his wife are making — can help mitigate the spread, especially in areas of significant community-based transmission, according to the CDC.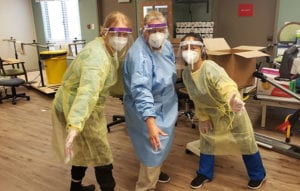 For those directly interacting with people who have contracted the virus, wearing proper, medical grade personal protective equipment (PPE) is essential. Because of the national shortage of PPE, the Tran family, with the help of friends, has made 1,700 protective plastic shields in addition to the cloth masks. 
To make the plastic shields, the couple purchased clear binding covers, elastic bands and soft foam online. Using duct tape, a hot glue gun, a stapler, scissors and a mini snap-blade knife, they are able to assemble one shield in five minutes or less.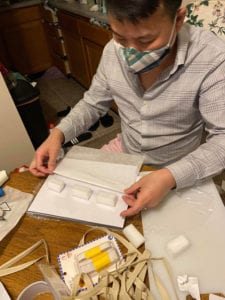 Most of the plastic shields have been donated to St. Louis area nursing home employees, where the risk of contagion is high. Tran knew of an emergency room worker at The Johns Hopkins Hospital in Baltimore, so face shields were sent to that hospital, too. If more health care workers continue to need face shields, Tran and his wife will continue to make them, he said. He expects they will have made more than 2,000 face shields in the coming weeks as more and more requests continue to come in.
Each face covering takes approximately five minutes to make. That means that Tran and his wife have spent more than 200 hours of their time making and donating plastic shields and cloth masks. Despite this incredible feat, Tran insists that "we really didn't do much." Those who have received a free face covering from Tran and his wife would surely disagree; he's making a difference, one face covering at a time.