The new Saints Success Bell is a fun and exciting way for Maryville students to celebrate and share their accomplishments and ring in their success.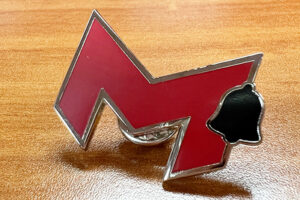 Do you have good news to share? Ace a midterm? Decide on a major? Land an internship? Ring it in! Students can email their Life Coach to schedule an appointment or just stop by Student Success in the University Library. Video recordings of bell ringings will be shared on Maryville's social media channels.
Additionally, students who ring the Saints Success Bell will receive a limited edition red "M" lapel pin featuring a black Saints Success Bell. And it wouldn't be Maryville without having Saints Success Bell T-shirts available!
"In Student Success, we don't just help you succeed, we also celebrate it!" said Antoinette Boyd, Maryville's director of career and professional development. "Celebrating your successes throughout your journey as a student is not only fun and exciting, it's necessary. We want you to accomplish big things and feel great about it. So, we have a new Maryville tradition: the Saints Success Bell."
So, to all of our Maryville Saints, you are cordially invited to celebrate your amazing successes by visiting Student Success and ringing the bell! #RingItIn