When music students weren't able to work with a live accompanist for classes and performances during the pandemic, Maryville found a creative solution through a new app.
The app, aptly named Appcompanist, provided students access to thousands of piano accompaniments for genres like opera, jazz and musical theatre. Students could control the musical pieces while practicing and performing by using their iPad or iPhone. Through the simple touch of a button, students could play melodies in different keys, insert musical pauses, check their pitch, smoothly increase or decrease tempo and more.
"Appcompanist was the best way to implement lessons in the virtual environment," said Scott Lyle, director of the music program and assistant professor of music. "While Zoom is an excellent product, there was always going to be a delay if I was playing music and a student was singing along. Our timing would always be off. So we needed to find a way for instructors to hear the students correctly and provide constructive feedback in real time."
The app was also a helpful tool for students to practice on their own time. Amber Chapman, who completed music classes as part of her music therapy coursework, used Appcompanist to sharpen her mezzo-soprano singing skills.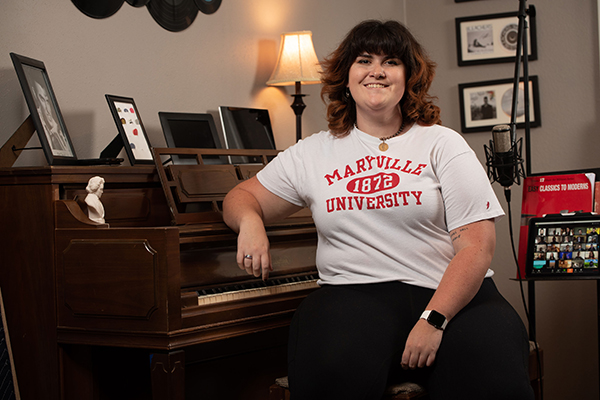 "I grew up doing community theater and participating in talent competitions, but never took formal lessons," she said. "Now, my Maryville instructors are teaching me how to sing in ways that are healthy for my vocal cords. I'm also learning a lot about breath and phrasing and how to deliver songs with the correct emotions. The app was super nice because I always had it on hand and didn't need another person around in order to practice my techniques."
Appcompanist also played a significant role for semester-end voice juries and senior recitals, held at the conclusion of a student's Maryville career before graduation. Both projects are traditionally held in-person in the auditorium, with Maryville's Artist-In-Residence and Associate Professor of Music Peter Henderson playing piano accompaniment. Friends and family often attend as well. Appcompanist allowed students to show their growth and share their talents from afar.
"Before the pandemic, I wouldn't have believed that I could learn music virtually," Chapman said. "But now that I've gone through the experience, I think it went really well. The virtual environment actually increased our learning opportunities."
In her free time, Chapman served as music director for Notorious, Maryville's student-run a cappella group. Notorious held virtual tryouts, practices and board meetings throughout the year. Their efforts culminated in a series of amazing virtual performances mixed by the groups tech-wizard advisor, Scott Lyle.
The performances required each student to individually record their audio and video tracks including checking out portable microphones, microphone shields and other equipment from Maryville's music department to instantly turn their student iPads into state-of-the-art recording studios. The finished products were showcased on Notorious' YouTube page and social media channels.
"Professor Lyle did so much to make sure the performance aspect wasn't lost during the pandemic," Chapman said. "So much of music is performance, even if it's not on a stage. Just getting to sit and play for other people; that's the best part of music. It's giving something to someone. And not being able to give that gift to others would have made the months a lot longer."