Reading time: 2 minutes
For Judith Shaw, what began as a diet and exercise program after having children became a life-threatening battle with anorexia. "I was orchestrating a slow, deliberate, painful suicide without even knowing it," she says. After more than a decade, she admitted she needed help and moved to St. Louis for inpatient treatment.
The experience was life-changing—and surprising. While fighting her disease, Shaw uncovered a hidden creative passion through art therapy. In the coming years, she would create more than 100 sc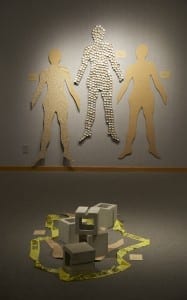 ulptures reflecting life with an eating disorder.
Shaw's visual diary, "Body of Work: The Art of Eating Disorder Recovery," is on display in Maryville University's Morton J. May Foundation Gallery through Feb. 26.
"Judith's artwork does an incredible job of representing the complexity, emotional conflict, and most importantly, the hope that goes along with an eating disorder," says Jennifer Henry, director of personal counseling and head of Maryville's Body Pride Team, a student group that encourages positive body image. Henry was instrumental in bringing Shaw's work to Maryville to help promote Body Pride Week, Feb. 22-26.
"Eating disorders have the highest mortality rate of any mental illness," Henry says. "The average age of onset for anorexia is 19, bulimia is 20, and binge eating disorder is 25. The traditional college-age population is an important group to target."
"I want people who have an eating disorder to know they're not alone, and that recovery is possible."
Maryville is among universities and medical schools around the country to display Shaw's "Body of Work" exhibit. With each new installation, Shaw discovers something new about herself and her experience with anorexia.
"What surprised me most this time is the story captured in these pieces doesn't really feel like my story anymore," she says. "The punishing thoughts and immobilizing feelings that devoured my life for all those years are no longer relevant because food, exercise, and the scale no longer rule my life."
Although she is not using art to quiet the destructive voice of her eating disorder these days, she hopes the pieces she created during that time will help others.
"I want people who have an eating disorder to know they're not alone, and that recovery is possible," she says. "I also want people who don't struggle with an eating disorder to understand the complexity of the illness, and to not be afraid to reach out to a person who may be struggling and support them."
UPDATE: Thank you St. Louis Public Radio for the positive media coverage of our art exhibit.