Blake Huster, '21, is a cybersecurity major. But a Maryville University project has thrust him into a divergent role: talk show host.
The idea came out of the COVID-19 pandemic. Social distancing challenged Maryville's Office of Admissions, where Huster works, to think of new ways to connect with and engage prospective students.
"We lost the ability to do a lot of our in-person events because of social distancing protocols," Huster said.
In March, the Admissions team came up with the concept of a live internet broadcast to help familiarize college-bound viewers with the Maryville campus, and asked Huster to help create it. The Fayette, Missouri, native with a background in public speaking accepted immediately. Early shows consisted of Huster or another student leader answering questions about campus life posed by interested high school student in a chat box.
This fall saw the launch of a new, more engaging rendition dubbed Maryville Live!
"We wanted it to be kind of like a Tonight Show with Jimmy Fallon," Huster said. "And we started brainstorming ideas."
A really hot show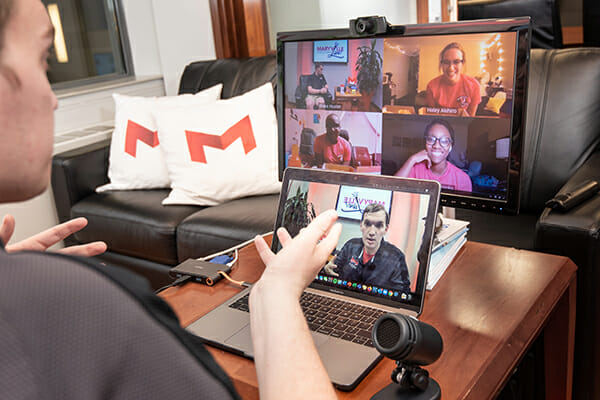 Each Maryville Live! episode features Huster and a fresh panel of student leaders in a conversational format. They still field questions about housing, social activities, sports and other topics on prospective students' minds but a recent episode also included an interview with Maryville president Dr. Mark Lombardi, PhD.
Show themes are selected in advance. But there's no set schedule or script, allowing for a hanging-out-in-the-dorm-and-talking vibe.
"We basically play it by ear to keep it fresh and interesting," Huster said.
In one broadcast, Huster and the other student leaders showcased the surrounding area by feasting on Imo's pizza, toasted ravioli, Ted Drewes ice cream and other local favorites. In another, they riffed on a YouTube series called The Hot Ones by eating progressively spicier hot wings while bantering with each other and answering questions. Because Huster's normal threshold is the relatively tame honey barbecue sauce, he was worried about his ability to keep his cool.
"They were hot, I mean, hot," Huster said. "I put a whole ice cream container up to my face because my lips were burning so badly, and I started eating spoonsful of ranch dressing."
'A delight and an honor'
A second Maryville live broadcast series was also launched geared toward prospective students and their parents. Saints Sneak Peek, hosted by staff and faculty, focuses on topics including academics, scholarships and financial aid. Together, Saints Sneak Peek and Maryville Live! draw viewers from as far away as Brazil, Spain and India.
The shows are among several innovations borne of the pandemic. Maryville's Office of Admissions has also launched live, student-guided virtual campus tours which compliment a new collection of videos focused on specific academic areas, such as tours of the Cyber Fusion Center and the Exercise Science Human Performance Lab. These tools will remain in place even after social distancing protocols are lifted, according to Lacey Norman, assistant director for campus experiences.
"We have so many options for visiting and accessing information now," Norman said. "Our prospective students have been really impressed."
Viewers give good marks to Maryville Live! For Huster, the show has not only been effective but just plain fun.
"It's me hanging out with a lot of my friends and talking about how much we love Maryville," he said. "It's been a delight and an honor for all of us."
For more information, visit maryville.edu/visit.
Watch full episodes of Maryville Live! below.