Each spring, seniors in Maryville's Interior Design Program present their capstone projects at the Interior Design Senior Show. The show is a culmination of everything the students have learned in the program and a great way to connect with prospective employers.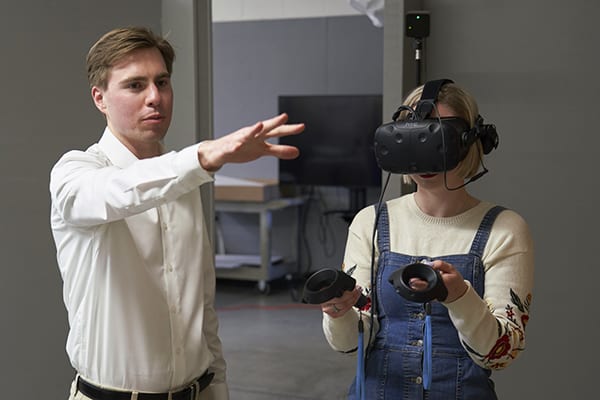 This year, Michael Poetz became the first interior design student to use virtual reality as part of his capstone project. The VR equipment is the newest addition to the program's storehouse of state-of-the-art technology. Students already use tools like large-format printers, 3D printers, laser cutters and CNC wood routers to create two-dimensional and three-dimensional pieces.
Poetz was tasked with redesigning an existing space for his capstone project. He chose to work on the historic Pet Milk Building in downtown St. Louis, a 16-story concrete structure located near the riverfront. The building currently houses luxury apartments, but Poetz recognized that the space lacked modern amenities.
His new design included the addition of a coworking space, spa and wellness facility, outdoor pool and entertaining area and two-story penthouse suites. Materials like paint, carpet and furniture were based off the concept of a dewy morning and featured shades of blue, green and brown. "I put my heart and soul into the design, and to see it come together was very rewarding," he said.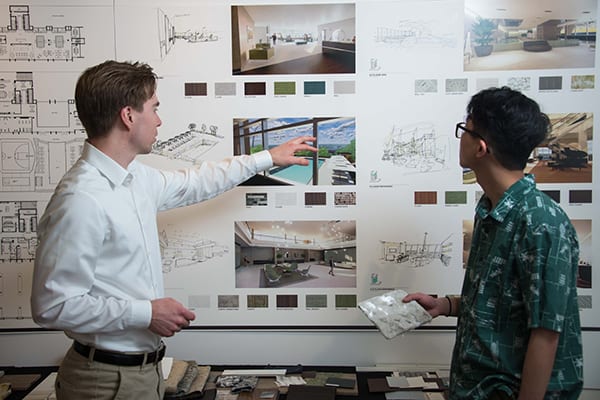 Users could tour the entire building using the VR equipment but the technology played a key role in showing off the penthouse suites. Users donned a VR headset and used two handheld controllers to move up, down, forward and backward through an open-concept living space featuring floor-to-ceiling windows and breathtaking lighting displays. Users could also switch from daytime to nighttime to experience the suites at different times of day.
"The VR technology allows you to be in the space and feel how you would react to it as if you were actually there," Poetz said. "It takes away that page boundary: you are able to step into the image and really experience it, instead of just looking at it."
Throughout the project, Poetz used skills he obtained from internships with two St. Louis area design firms, HOK and Lawrence Group Architects. Interior design students are required to complete an internship as part of their Maryville coursework. Poetz often reached out to his professional contacts to ask questions and troubleshoot challenges, as both firms use VR for client presentations.
The project also gave him the opportunity to test his design skills before entering the workforce. "I want to design apartment complexes after graduation," Poetz said. "Now, I know I can be successful with this type of project in my professional career."