The year 2020 was intended to be one of great celebration, honoring Earl E. and Myrtle E. Walker, who would have turned 100 this year, and founded the Walker Scottish Rite Clinic with Les Denney more than 30 years ago. Due to the coronavirus pandemic, all in-person celebrations and fundraisers were postponed indefinitely.
This holiday season of giving is the perfect time to recognize the founders for their tremendous generosity and commitment to helping young children with speech delays and their families. Since 2015, when the Walker Clinic became an official program of Maryville University, 2,656 children have received nearly 35,000 sessions of speech-language intervention.
"My parents instilled in everyone the spirit of giving to children, to help each one of them find their voice and their success. Above all else, it is the act of sharing to help support an opportunity or provide a service to others. No act of sharing is too small. I continue to attempt to follow their example and instill the same in my family and others," said Nance Frost, daughter of Earl E. and Myrtle E. Walker.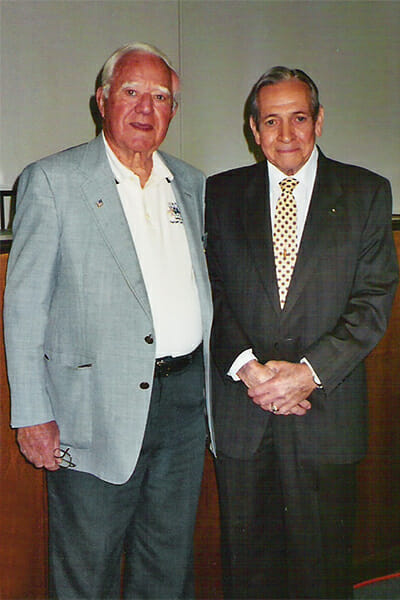 It was in 1988 when Les Denney, who traveled extensively for business, encountered several free Scottish Rite speech and language clinics. Les was very impressed by the services and shared his enthusiasm with the Walkers. Shortly thereafter, thanks to the Walkers, the same high-quality service became available at no charge to children and families in the St. Louis region.
"If children cannot communicate, they simply do not have the same opportunities in life," said Scott Denney, chair of the Walker Clinic Board of Directors and son of Les Denney. "I am an enthusiastic, shameless promoter of the clinic. I am deeply committed to ensuring children fulfill their potential and honoring the legacy of my father."
The Walker Scottish Rite Clinic services are available in seven convenient locations in St. Louis City and County, Jefferson County, Lincoln County, and Franklin County in Missouri. Every clinic is funded by corporate and foundation grants, special fundraising events, and individual donations. The clinics receive no federal funding, and families are never charged for services, regardless of financial status or insurance coverage.
The clinics provide certified speech-language pathologists to educate parents and caregivers of children aged two to six years old who are struggling with communication disorders. While most kids are eager to talk, some may have serious trouble expressing themselves. Those children are at risk of early school failure, including difficulties interacting in their peer groups and with language-based skills like reading and writing.
Early on in the pandemic, the Walker Clinics transitioned from in-person therapy sessions to telepractice, allowing for children to continue therapy and for caregivers to learn techniques to use at home. Within a matter of weeks, the majority of enrolled children began receiving remote services. Currently, more than 2,000 telepractice sessions have been conducted and the therapists are reaching families in new ways including Facebook live videos and YouTube trainings.
"In today's world, we focus on extending our reach in new ways to help children in underserved areas and communities. While we currently have a waiting list for telepractice sessions, the Facebook videos produced by our therapists offer an immediate alternative," said Jacob Gutshall, Director of the Walker Scottish Rite Clinic at Maryville University. "When children struggle to communicate, parents and caregivers become essential partners in the early intervention process."
Parents are invited to view parent training videos at: https://www.facebook.com/pg/wsrclinic/videos/ and learn more.
Gutshall explained, "We aim for children to have a better chance of success through these steps: 1.) early identification, 2.) direct speech and language therapy intervention, and 3.) parents and caregivers learning techniques to use in the home."
Each child enrolled in the Walker Scottish Rite Clinic is served by a Masters-level speech-language pathologist, who is certified by the American Speech-Language-Hearing Association, licensed by the Missouri State Board of Healing Arts, and trained in the Hanen Centre's "It Takes Two to Talk." Therapy sessions are tailored to each child's special needs. Services include speech-language screenings and evaluations, individual and group therapy, audiological evaluations, and caregiver training.
To learn more about Clinic services or providers in your area, please call (314) 529-9200. To learn more about the history of the Walker Scottish Rite Clinic, click here.
Because all clinic services are free, donations to expand services can be made here srclinic.org/give.