One of the most prestigious awards that Maryville University can bestow is the Myrtle E. and Earl E. Walker Medal. The Walker Medal is given annually to recognize outstanding contributions or achievement in the field of Health and Wellness. Past recipients include the Missouri Foundation for Health, Nurses for Newborns and Michael DeBaun, MD, MPH, the founding director of the Vanderbilt-Meharry Center for Excellence in Sickle Cell Disease.
This year, Maryville is proud to award the Walker Medal to all Maryville nursing alumni, students and educators. President Mark Lombardi, PhD, presented the Walker Medal to the Maryville nursing community during the 2022 Nurse Pinning Ceremony.
"Congratulations to all our nurses past, present and future," said President Lombardi. "You give so much of yourself each and every day, particularly the last two years during the pandemic. We appreciate your professionalism, your commitment to your patients, your compassion and the immense medical knowledge you bring while serving on the front lines."
Each member of the Maryville nursing community will receive a special Walker Medal lapel pin to commemorate the award.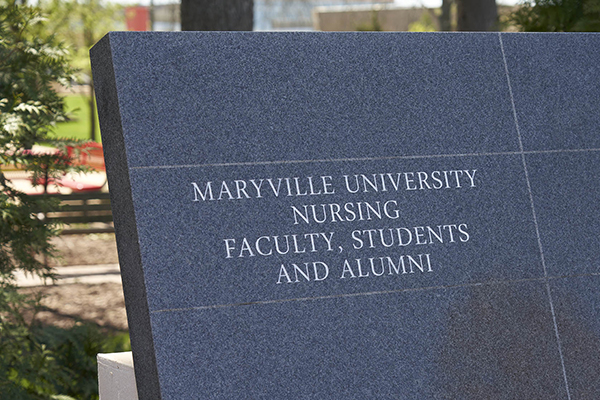 An engraving was also added to the Visionary Leaders Wall on the Gander Quad. The Visionary Leaders Wall honors Maryville's rich heritage and recognizes our most generous donors. Typically, each panel denotes a $1 million gift to the University. The panel honoring the Maryville nursing community is the second recognition of those who have made a significant personal impact, rather than financial — the other being the Society of the Sacred Heart.