In October of 1950, the last building to be completed on Maryville's South St. Louis City campus was Duchesne Hall, a structure dedicated by Archbishop Joseph Ritter. Connected to the first building constructed on the campus, the 1872 Administration Building, the two-story dining hall featured 31 murals depicting the life of Maryville foundress, Sister Rose Philippine Duchesne, by artist Raymond Matteuzzi.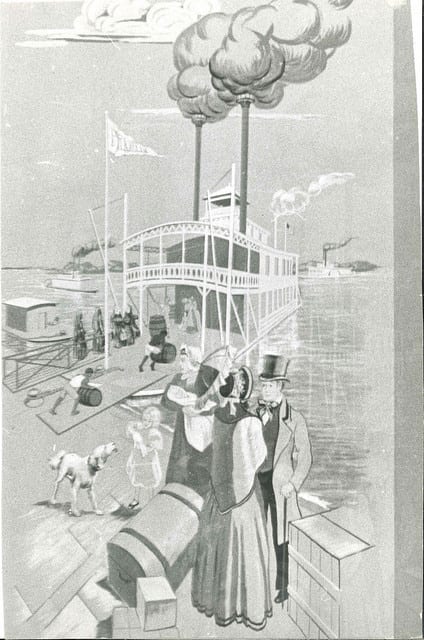 Matteuzzi, a Yale graduate, began working in his father's decorating business while he was in high school. Previously, he had undertaken a Gothic-style redecoration of the old Maryville chapel, which was met with great success. His work can also be seen in Our Lady of Lourdes, Holy Redeemer, St. Ambrose, and St.Charles Borromeo. When asked to create the murals for the college's dining hall, Matteuzzi did extensive research on Philippine Duchesne. The hall itself was still under construction when Matteuzzi received the commission, so he was unable to mentally picture the murals surrounding the dining hall until he officially started painting them. The architect gave Matteuzzi the simple instructions of a scenic wallpaper, with long silhouettes. The murals were set against a steel blue background.
The frescoes in Duchesne Hall follow Philippine's journey from Grenoble to the New World, to the Indian Mission in Kansas and back again to St. Charles. They were surprisingly large, shown here in the background of this photo of three Maryville College of the Sacred Heart alumnae modeling wedding gowns. Pictures of thirty of the thirty-one murals survive today, though they themselves are no longer in existence.
This June begins the celebration of the Bicentennial of Rose Philippine Duchesne's journey to America. Many an alumna of the old campus remembers the almost life-size frescos documenting Philippine's life journey.