Students give rave reviews to active learning projects that illustrate the Maryville experience
Maryville students are as likely to be found harvesting lettuce, visiting neglected neighborhoods and creating children's literature as they are to be learning about biology, social justice and composition in a classroom. It's all part of the University's focus on experiential and individualized education.
In 2014, Maryville launched an Active Learning Ecosystem (ALE) initiative, which includes experimenting with cutting-edge technology, supporting intellectual risk-taking and conducting ongoing assessment. This past spring and summer, students rated a variety of ALE activities — from a Shark Tank-style business presentation to an Instagrammable writing assignment — on their level of engagement. Their positive responses help tell the story of the deep immersion and collaboration that makes Maryville unique.
Encouraging Enterprise
Kelly Smith, '13, an instructor of interactive design, wanted students to give each other better-quality feedback on their ecommerce businesses. "I wondered, 'If theirs were real businesses, what would they do?'" Smith said.
Smith thought up an idea based on Shark Tank, the popular TV series in which entrepreneurs present their ideas to potential investors. The products were interactive websites that the students designed. Some of the sites that were created offered the chance to create custom wheels, view furniture in augmented reality, or personalize beauty products. In another nod to the show, student "investors" would pretend they each had $1 million to bestow on one or more potential businesses.
In impromptu presentations, students touted their design choices and the research and rationale behind them. They emphasized their selling strategies and target audiences. "They couldn't just stand up there and show their work," Smith said. "They really had to sell it and explain themselves." For example, a student might point out they chose the color purple because it was unique; nothing else in their particular industry is purple. Would-be investors had to consider not only the immediate appeal of the product but also its future money-making potential. Even if they weren't fully sold on an idea, students offered valuable responses. "The feedback might be, 'I can see strong work, it just needs a bit of tweaking,'" Smith said.
Students gave the activity a four out of five. To enhance her next Shark Tank assignment, Smith decided to introduce the idea earlier in the semester. "So when they do their presentations, they're a little more prepared," she said. Smith believes students evaluating ALE projects is an important step in the continued development of the initiative. "An idea for an ALE activity may look flashy or cool," Smith said. "But what does the actual data suggest? What are the real-life outcomes?"
Increased Engagement
Chemistry professor Natalie Ulrich challenged her organic chemistry students to work with a tech tool typically employed not by scientists but designers. In a collaborative project, they used a virtual whiteboard called MURAL to create a brand-new molecule in five steps. It was a complex task calling upon 16 weeks of classwork, Ulrich said. She was curious: Would her second-year students be able to complete an activity more suited to graduate work?
Watching 22 students in small groups, Ulrich held off from jumping in even when she sensed frustration. As they forged through their issues, the energy was palpable, Ulrich said. "They were talking to each other and looking through all their notes," she said. "Pretty much 100% engagement, which is not really typical for a traditional organic chemistry classroom." Their collaborations paid off. Each group was able to move on to the next phase in which Ulrich asked students to remove some of the five steps from their process. The result was a puzzle with missing pieces for others to solve, creating a lesson in teaching techniques. A final task was providing feedback and implementing it to improve their work.
Students gave the exercise a five out of five. They reported a better understanding of molecule synthesis and a boost in self-confidence. They all surprised themselves by completing what at first seemed a daunting task. Maryville students have now come to expect immersive activities in all their classes, according to Ulrich. She said active learning not only facilitates better retention, it also strengthens broader abilities. "It helps students develop skills in communication, critical thinking and leadership," Ulrich said. "Which are probably as important as anything they learn about chemistry."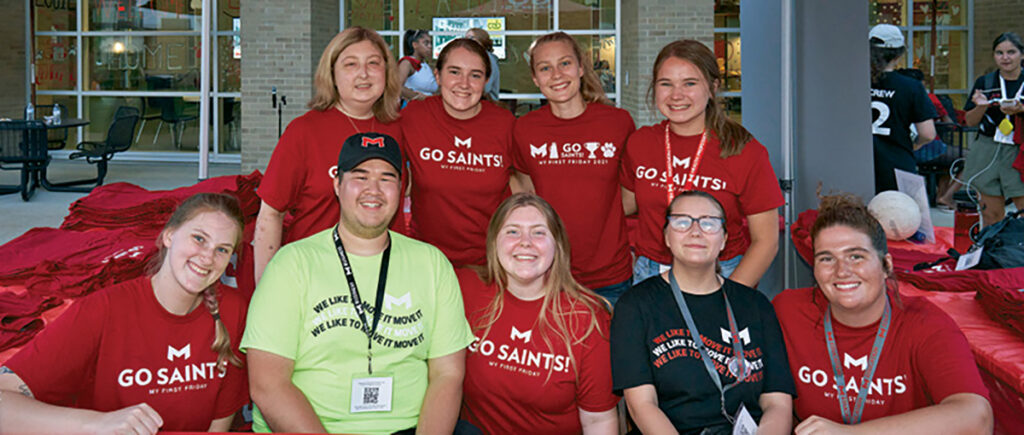 'Turning Toward Each Other'
Humanities instructor Christi Branson wanted to encourage her first-year composition students to consider their audiences. She used a vehicle not usually associated with a writing assignment: Instagram.
First, students developed research questions. For example, one wanted to know how music therapy could benefit people dealing with a mental health challenge. As they researched their questions, Branson asked the students to imagine an audience, find images to go along with their research and present their results in the form of Instagram posts. "I would call it a new genre of English Comp," Branson said. As a final step, the students worked in groups of three to review and discuss each other's work. "It made for productive, collaborative conversations, which helps give them more confidence to work in a group," Branson said. The students gave the activity a five out of five. Branson took a photo of the class during the process that illustrates their high level of engagement. "It definitely shows in all the smiles and their body language," Branson said. "They were all turning toward each other."
Considering Different Views
Erin Boswell, '07, director of new student and first-year experience programs, trains student leaders, including resident assistants and peer mentors, how to welcome incoming students. This past summer, she came up with an activity to help them think of new students as customers. Boswell divided the student leaders into groups of six. She presented each group with a case study illustrating an issue they might face. One example was a parent upset over their child's mirror being broken during move-in. The goal was for the members of each group to come to a consensus about how to handle their situation. "It gave us a chance to talk about how there's not necessarily a right way or wrong way to solve a problem," Boswell said. Each group had to come up with five action steps for resolving the issues in their case studies.
"What I really liked is most of them started with an apology as their first step," Boswell said. Student leaders rated the activity a four out of five, saying they wanted to add even more case studies to the training, which Boswell plans to do this coming summer. Boswell said the case-studies activity encouraged students to consider the views of others as well as their own when problem-solving. She said the concept has implications that resonate far beyond the classroom.
"Problem-solving is a goal we set for ALE, but it's more than that," Branson said. "The ability to solve problems is also something we want all our students to have before they leave Maryville."