Reading time: 2 minutes
As Maryville University began the 2017-2018 academic year, first-year students and families navigated move-in day and orientation activities. Students brought with them favorite personal possessions to ease the transition, and lots of advice from parents and other relatives.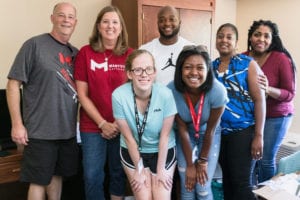 Destinie Jones, from St. Louis, is a first-year biology and pre-veterinary major. Along with food, the most important item she packed is a book of inspiring quotes and biblical verses given to her by her mother, Shelly Jones. Her father, Terrell Jones advised his daughter to "Put God first, and study hard." Her Aunt Janet, who helped move Jones into the residence hall, added this advice: "If you have a question, always ask it."
Drew Klauser, from Quincy, Illinois, is a cyber security student. "My parents told me to have fun and don't stress over it. They told me try my best, and that they'll be proud of me whatever happens." Even though Maryville provides free iPads through Digital World program, the most valuable thing Klauser brought from home is his own iPad. "It has everything on it," he says.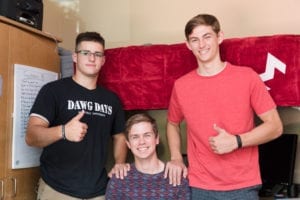 Klauser's roommates are Michael Lippincott, whom he met during a First-Year Excursion program, and Brandon Schmidt, with whom he connected through the Facebook group for Maryville first-year students. Lippincott, a biochemistry major from St. Louis, packed Gatorade and poker chips. His father, Jay Lippincott, advised his son to "Soak it up. This experience only comes once in a lifetime." Schmidt is a marketing major from Mt. Zion, Illinois. His most prized possession is his cellphone, and he's looking forward to "more freedom."
Lauren Carter, from Collinsville, Illinois, is majoring in interior design. She brought a car, so she can continue working part-time in her church nursery and at the local YMCA, but her cell phone is also a must-have item. Her parents, Warren and Laurie Carter, encouraged their daughter to study hard and explore opportunities to engage with fellow students. Lauren, the youngest of three children in her family, received similar advice from her brother, Stephen, who helped with the move-in. "Go as hard as you can in terms of participation," he said. "Get involved."
More than 850 students live on campus, in Maryville's three residence halls and five apartment buildings.