Another year, another title for Maryville's Esports program as the Saints captured the inaugural NACEsports Invitational championship with a 2-0 triumph over Miami University in the finals.
Last season, Maryville recorded a perfect 40-0 record en route to a national title.
The two-week winner takes all Invitational was the first of its type in the United States, according to the National Association of Collegiate Esports (NACE), sponsors of the invitational.
Maryville defeated Columbia College 2-1 in the semis before taking down Miami to claim the championship. The Saints' Tony Chau, John Le, Andrew Smith, Cody Altman and Marko Sosnicki competed in the championship against the Miami Redhawks.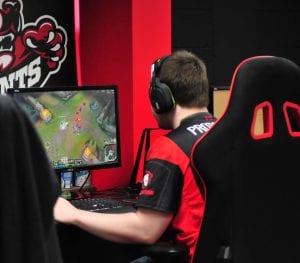 "With the whole team coming back from last year, we felt we would be in position to compete for a national title," says Jarret Fleming, Maryville University's coordinator of athletics and recreation.
Sixteen teams were invited to the Invitational. These teams were seeded by the NACE Competition Council, an elected membership group charged with developing policies and procedures for national competition. The seven-person committee evaluated each team based on past performance and individual ranking for each squad, according to the NACE. Maryville entered the final round as the No. 3 seed.
The 16 teams were placed in groups of four for round robin matches before the group winners faced off in single elimination play. Maryville finished a perfect 6-0 in round-robin competition against Southwest Baptist University, Lees-McRae College and Western Kentucky University.
Maryville will compete for another national title this year when it travels to Los Angeles in May to defend its C-Star League of Legends title. Maryville will take on the University of British Columbia in the first round of the League of Legends College Championships.
The match can be seen online at watch.lolesports.com. The winner of that game will face off against the winner of the University of Maryland vs. Robert Morris University contest in the semifinals.
The Saints defeated Robert Morris in the North Regional finals in late March to book a trip to the national finals. RMU then handed Maryville its first loss in program history in the Midwest Campus Clash in mid-April.
The final is scheduled for 2 p.m. on Sunday, May 28.
Maryville founded its Esports program in 2015, and was one of the first universities in the country to offer scholarships to Esports club students. Maryville is one of the six founding members of NACE. The organization has expanded to over 30 schools, including universities from South Carolina, Kentucky, Ohio and Nebraska.