Reading time: 2 minutes
In his role at Good Karma Brands, Eric Nehm, '12, serves as a producer and reporter for ESPN Milwaukee, but his official titles don't give the full scope of his job description. Nehm is a writer, problem solver, Twitter guru and basketball devotee for Wisconsin sports.
Nehm spends most of his time reporting on the city's NBA team, the Milwaukee Bucks. For each of the team's 41 home games, his day begins in the morning, watching the Bucks' shoot around and writing a game preview. The work doesn't wrap up until late at night.
"At the arena, I do all pre-game and live coverage. By the time I record the post-game podcast, I'm probably finished around midnight," Nehm says.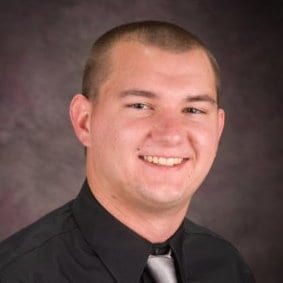 During baseball season, he gives the same attention to the Milwaukee Brewers.
Additionally, Nehm fills in as the producer for various radio shows with ESPN Milwaukee. He covers pre-game shows for University of Wisconsin-Madison Badgers football and basketball, pre-game shows for Marquette University basketball, and NFL coverage of the Green Bay Packers.
"I'm a bit of a jack of all trades," Nehm says. "To use a very clichéd term in sports, I'm a utility player."
Nehm always wanted a career in sports radio. At Maryville, while earning dual BA degrees in English and communication, he helped create Saints Talk, Maryville's student-run sports podcast.
Nehm also developed a column for Milwaukee Magazine.
"I've lived in Milwaukee for a majority of my life and covering those teams is a passion of mine," he says. "I decided that I wanted to try writing about the NBA. I had gotten to know some of the editors at Milwaukee Magazine, so I pitched them on the idea of writing a weekly Bucks column. I guess that's kind of always been the way I've done things. If I want to do something, I pitch an idea and discuss how to make it happen."
As a writer for ESPN, Nehm is one of the youngest individuals in any locker room or clubhouse.
"I think it took some people by surprise," he says. "I've always been the type of person who shoots my shot, and if I think something needs to be asked, I'll ask it. I think they quickly figured out that I do know what I'm talking about, and I was accepted."