Maryville University residential students learned to cook gourmet meals during the pandemic through a meal kit service called Meal2Me. The meal kits provided step-by-step recipes and fresh, pre-portioned ingredients to provide a fun cooking experience.
Dishes included firecracker meatballs with roasted green beans and jasmine rice, chicken in scallion cream with vegetables, and Korean beef and rice bowls topped with carrots, baby bok choy and fried eggs. Ingredients were customizable to accommodate dietary restrictions including the option to select meat alternatives.
The Meal2Me program was developed by past Residential Life Coordinator Jennifer Susnic, '16, '19, and past Cookie and T.R. Jr. Potter Hall Resident Assistants Haley Akihiro and Blake Huster, in partnership with Fresh Ideas, Maryville's exclusive dining partner.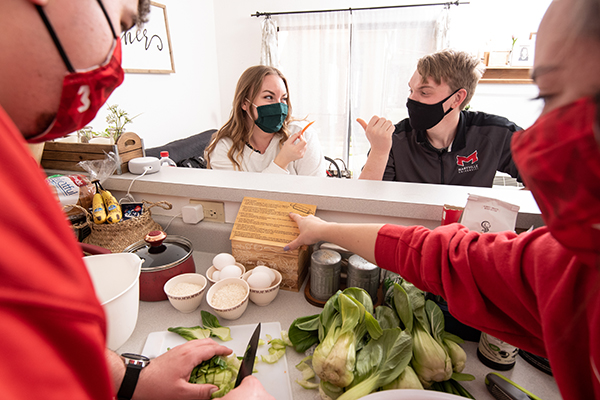 Meal2Me kits were available for purchase using meal plans and cost $25 per kit. All ordering took place through Maryville's mobile ordering system, allowing for contactless ordering and payment as well as rapid pick up. Each Meal2Me contained two servings, and students could order multiple boxes at the same time to feed friends or enjoy leftovers.
"Our goal was to create an opportunity for students to gather together for a family-style meal," Huster said. "There's something special about being able to cook your own meal with friends, and then enjoy it around your own dinner table."
Those students living in Maryville's Hilltop Student Apartments were able to utilize their full kitchens, which include a stove and oven, to prepare meals. Other students ordered Meal2Me kits and took them home to prepare recipes for their families. Additionally, some Maryville faculty and staff members ordered boxes to share with their loved ones.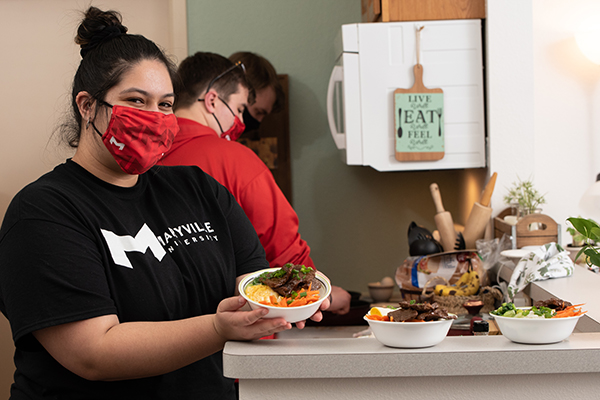 While Fresh Ideas sourced and portioned the ingredients, the Residential Life team was responsible for all Meal2Me branding, packaging and marketing. This included creating a logo featuring red fruits and vegetables in the shape of a heart, to designing and printing recipe cards. The team also designed and sourced branded boxes and other packaging materials.
Their extensive project management even extended to targeted email campaigns and the creation of an Instagram @Maryville_Meal2Me that shared ingredient sneak peeks, meal reviews and behind-the-scenes videos of the box packing process.
Plans are underway to create Meal2Me dessert and snack kits that can be prepared in microwaves or don't require cooking so they can be enjoyed by students living in residential halls or by students on the go studying or attending class. There's also potential to create care package Meal2Me kits for families to purchase for their students.
"We're always looking for ways to strengthen the tight-knit, close community that exists among residential students," Susnic said. "When we brainstormed Meal2Me, everyone immediately did everything they could to make it happen. That support system was crucial. We're always pushing the boundaries of how far we can reach and what we can do to provide our students with the best experiences possible."