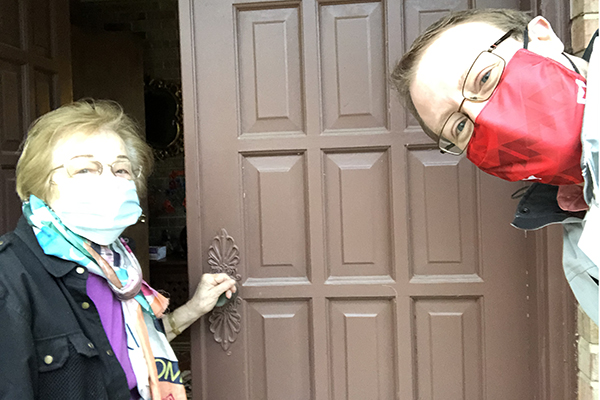 On November 12, 2020, I saw my friend Katja Georgieff, PhD, professor emerita of music for the last time. We had been talking by phone weekly since the COVID-19 pandemic upended everything that spring. Katja had collected some programs from the Music at Maryville concert series that she founded at Maryville University in 1980 and wanted to give them to me. After teaching my classes at Maryville, I dropped by her house to pick up the packet she had prepared, and to share a brief, outdoor, masked and socially distanced visit.
I first met Katja around 2003 at a concert in St. Louis — her sparkling personality and broad cultural awareness made a vivid first impression. Before I joined Maryville's music faculty in 2005, Katja had taught here for 30 years. In my early years as a faculty member, Katja became a trusted advisor, helping me to get my bearings at Maryville. I later realized that she was quietly and subtly guiding me to understand that institutions are not mainly about buildings, equipment, policies, and procedures — institutions are about the people they serve, and the people who shepherd and run them. Katja's mentoring was subtle — she listened to my concerns, and then shared stories from her own experiences. Through these dialogues, Katja helped me temper my individualism, and gradually embrace the idea that life is a collaborative project.
In the years following Katja's retirement, Cynthia Briggs, MM PsyD, MT-BC, past director of Maryville's Music Therapy program, and I marveled at Katja's initiative and indefatigable zeal for travel — throughout her eighties! Almost annually, Katja spent time in Europe with family members or close friends. While she had been very healthy for most of her life, some difficulties arose during her last years, preventing her from traveling frequently. Most distressingly, Katja became bedeviled by chronic pain. Remarkably, she always followed any complaint about her constant discomfort with a statement of gratitude for her many pain-free years.
In our weekly phone calls during Katja's last year, we talked extensively about musical style, and I persuaded her to hear the vast symphonies of Gustav Mahler, which she had never investigated. Ever curious, Katja delved into Mahler's Fourth (my recommended "gateway" to his musical language), and we shared a memorable conversation about the work. Katja was always reading something new, continuing to challenge herself. During her last weeks, she was enthusiastic about a recently published book on the French composer Claude Debussy. Days after I learned that Katja had passed away, I received a package from Amazon — she sent me a copy of that book, in the hope that we could discuss it.
Everyone at Maryville is focused on the welfare of our students — we are truly a student-centered university. As I've grown into my role as a teacher, I believe that Katja's patient mentoring has helped me to become a more attentive, more helpful mentor to Maryville students. These are the major themes that Katja shared with me, ideas that I consider life-enhancing gifts:
Take a genuine interest in people — truly listen, and care to learn about them. Life is a collaboration!
Be humane. There is no downside to graciousness and acceptance of others.
Stay curious! Keep reading and studying, because discovery and self-improvement can bring lifelong joy.
Keep moving, and share experiences. Travel can be a wonderful way to expand one's mind — and it's better with loved ones.
I am honored to follow Katja as the Director of the Music at Maryville series. On April 24, 2022, at 3 p.m., in the University Auditorium, I will perform a solo piano recital featuring masterpieces from the 19th century in Katja's beloved Romantic style; admission is free. Following the concert, we will host a reception. Please join us in celebrating the life and legacy of a remarkable musician, friend and mentor. This video featuring my performance of Johannes Brahms's Piano Piece, Op. 118 No. 2, shows the style and bittersweet quality of the music that I will perform on April 24, in tribute to Katja.