Josh Parrish has spent each of his three spring breaks where other college students tend to congregate—in balmy Florida. But unlike students relaxing on the white, sandy beaches along the Gulf of Mexico, Parrish was pounding silver nails into two-by-fours.
As part of Maryville University's annual, alternative spring break trip, Parrish and 13 other students spent four days building a house for Habitat for Humanity in Pensacola. This marked the third straight year Parrish participated in the service project.
"One Saturday of volunteering by me could change a family's entire life. That's unbelievable."
"I've been put in a lot of fortunate situations so being able to give back to a family in need, that's something I really wanted to do," says Parrish, who expects to graduate next spring. "I love doing that. I look for those opportunities. I've been blessed to have been part of this one for three years."
Giving back to those in need has always been important part of Parrish's life. In high school, he took mission trips through Next Step Ministries, offering his time constructing homes devastated by natural disasters in places like Oklahoma, Mississippi and South Carolina. Last summer, he volunteered for the entire summer doing construction work on a Navajo reservation in New Mexico.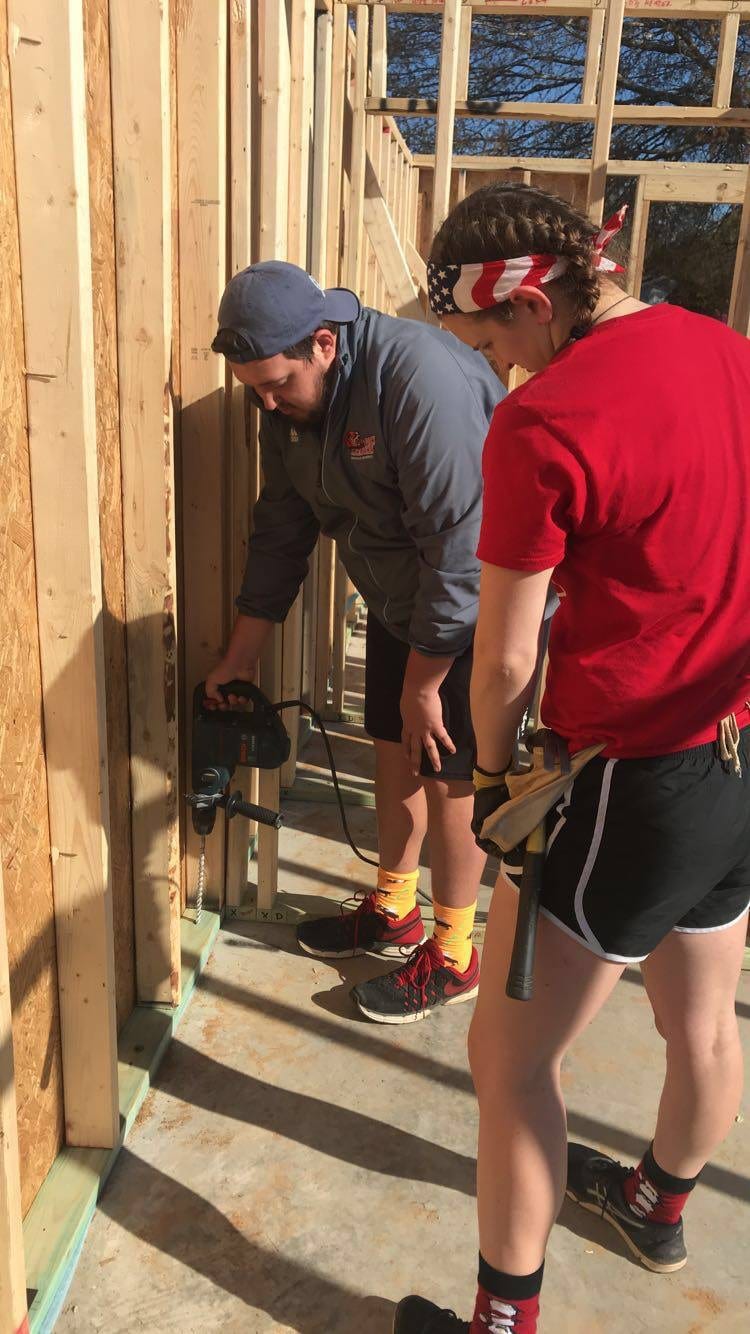 "I've always had a sense of wanting to help people," says Parrish. "One Saturday of volunteering by me could change a family's entire life. That's unbelievable."
On campus, the Rawlings Sports Business Management (RSBM) major supports fellow students as a resident assistant in Saints Hall and leads campus tours for prospective students. He is also president of his academic program's leadership council. But there's more: Parrish also serves as a youth pastor at West Springs Church in Ballwin—that is, when he's not busy with his internship at Ballpark Village in downtown St. Louis.
"The people around Maryville care about me and invested in my life, and that's how I have these amazing opportunities and jobs," says Parrish. "I couldn't do it without all of the support from people on campus."
As president of the Rawlings Sport Business Management Leadership Council, Parrish is in charge of the mentoring initiative, which pairs freshmen students with students who are further along in the program.
"I want to continue to put this program in a much better place," says Parrish. "I'm so passionate about the students and the program. We continue to think of ways to improve it and the industry."
Parrish created other networking opportunities when he launched a job-shadow platform with sports organizations, connecting students with their career interests.
"His willingness to help the student body grow through professional development opportunities is second to none," says Daniel Schmidt, RSBM program coordinator. "He has the respect from his peers and is willing to tackle any opportunity that is put in front of him. He's a great asset to the program."
Exploring more about Maryville was something Parrish needed to do before deciding to enroll. He had received an offer but was leaning toward a different college to continue playing football.
Jason Williams, EdD, director of the program, asked Parrish to attend an annual RSBM presentation on campus. Parrish agreed, but got lost after arriving at Maryville. He asked a few students nearby to point out the auditorium, and to his surprise they went out of their way to walk with him across campus to the building. During the short trip, the students offered glowing testimonials.
"They were telling me all these great things about Maryville, and I thought they were being fake," says Parrish.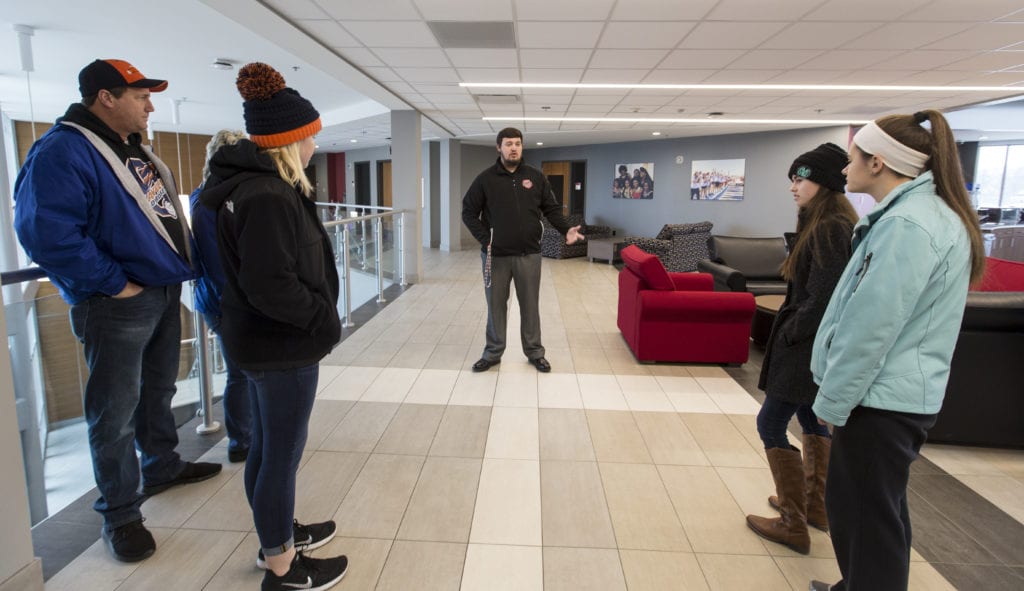 Following the RSBM presentation, Williams offered his pitch for the University's program by expounding on the numerous prospects for real-job experiences.
"He said 'Josh, we have all these jobs, internships and opportunities for you,'" says Parrish. "'This is the place you need to be. This is the place where you're going to make it happen.'"
Both Williams and the group of students were accurate in their assessments that day, Parrish says.
"Maryville has given me a future and experiences I would have never gotten anywhere else," says Parrish. "These people care, not just about me, but about every student here. They want us to be amazing, and I just took that and ran with it."
After graduation, Parrish looks forward to working for a professional sports organization—and more opportunities for giving back to the community.
"I love working with my hands so I definitely plan to work with Habitat for Humanity or other service organizations after I graduate in whatever city I may be in," says Parrish. "I want to serve as much as I can."
Even if it's just one Saturday at a time.