Michelle Stading, MOT, '19, has always loved to bake. When she found out her hours as an occupational therapist would be reduced due to the COVID-19 pandemic, she thought back to the new sugar cookie recipe she had recently tried out. She began making smiley face-shaped cookies to share with family and friends. The cookies went over well and requests for more started to come in. In need of some additional income and with plenty of time on her hands, Stading decided to take her cookie baking to the next level.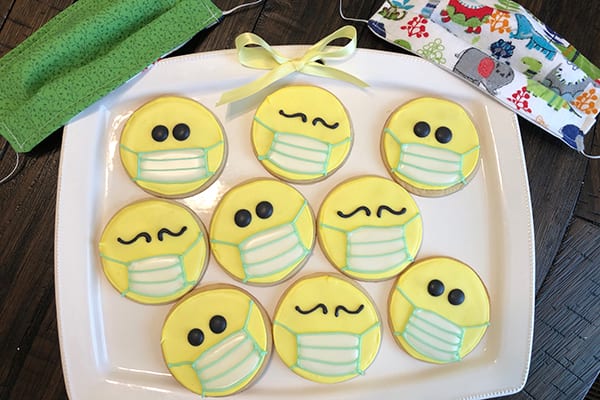 Over the course of a week, Stading came up with a company name, drew a logo on her iPad and created a website and social media channels. On March 1, Grateful Goods was officially in business. The name of her company came from how Michelle was feeling.
"I was so grateful that people were even interested in buying my cookies and even more grateful that baking was able to provide me with a source of income during this difficult time," she said.
After graduating in May of 2019, Stading passed her board exams and began working at Shriners Hospitals for Children — St. Louis and at First Steps Missouri. "I was just getting used to the transition from college into the working world and my hours were starting to ramp up when the pandemic hit," she said. "I knew I needed to find another way to have an income."
In just a few weeks' time, Stading went from baking small quantities of cookies for family and friends, to receiving orders from all over the United States and fulfilling orders of more than 500 cookies. A recent order was from the owner of a company who was looking to spread a little positivity to his employees. He ordered cookies from Grateful Goods with messages like '#workingfromhome,' 'stay healthy' and 'thank you' — and, of course, Stading's signature smiley faces but with the addition of face masks.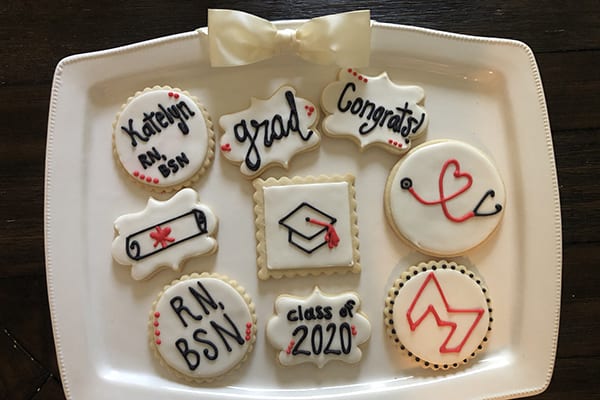 Stading noted that this process has involved a lot of learning. "Growing up, I'd be the one to make the family birthday cakes. I have always enjoyed baking, but I hadn't done anything on this level," she said. Some parts of the process are completely new to her, like decorating with royal icing. "I'm figuring out what works and what doesn't as I go."
But Stading isn't alone in figuring out her new business. Her fiancé, Mark Cohen, '18, also started his own business during quarantine, a marketing agency called 212°. "Six months ago, neither of us would have thought we'd be running our own businesses," Stading said.
The couple credits much of their success to the values they were taught while students at Maryville. "Faculty and staff members, like Kathy Quinn, associate vice president of strategic projects, and Stacy Donovan, PhD, associate professor of biology, instilled in me a drive and desire to belief in myself," she said. "Their examples of leadership have helped make me into the person I am today."
Though Michelle will return to her role as an occupational therapist as soon as she's able, she plans to continue the work of Grateful Goods. "I might not be able to accept orders of 500 cookies once I'm back to my regular work schedule," she said, "but this is something I definitely want to keep doing."
If you're interested in purchasing cookies for yourself or as a gift, visit gratefulgoodsstl.com or visit the Grateful Goods Facebook page. Grateful Goods offers shipping, local delivery and pick up.
Thank you to KSDK for your coverage of this good news!
To learn more about Grateful Goods, please watch our Facebook Live interview with Stading and Cohen.