The first video Brandon Monzyk, '10, remembers making was with his family's camcorder as a child. Later, during snowboarding trips as a 20-something bachelor, Monzyk always had a GoPro camera on hand. He would receive his first drone as a gift from his wife after they returned from a float trip, during which Monzyk wished he'd been able to film the clear spring-fed water and bedrock-lined riverbeds from above.
When a family friend heard that Monzyk owned a drone, he was asked to capture an aerial shot of Parkway West High School for a wall display. Monzyk happily obliged, capturing the requested shot and also putting together a short campus tour video. The video was posted to social media and garnered thousands of views in just minutes.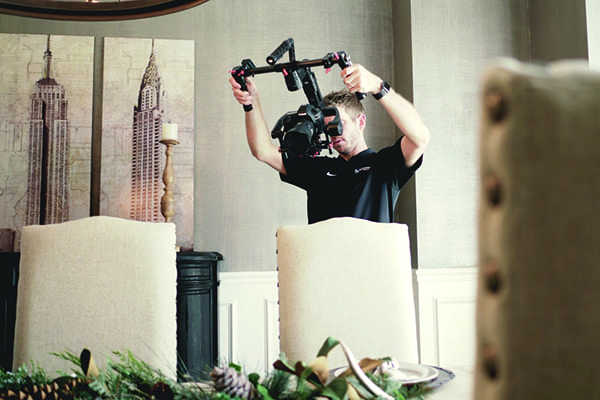 "I became known as 'the drone guy,'" Monzyk said. He started receiving requests to create similar videos for local businesses and real estate listings. When the calls and emails started coming in at all hours of the night, Monzyk decided it was time to pursue his passion professionally. He quit his full-time software job and started Square One Media Productions.
"It was a little scary because I didn't necessarily know where my next paycheck was going to come from," Monzyk said. "But that was the fun part, too. I got to choose my own path."
As business grew, Monzyk's best friend and business partner, Nick Profancik, '09, joined the team. The two had met while playing on Maryville's men's golf team and remained friends over the years, even standing up in each other's weddings. "We're family," they explained.
Today, Square One Media has found their niche in the real estate industry. Currently, real estate agents work with large marketing firms or freelancers to build their creative assets. Square One Media is designed to serve the "in between" customers who don't have large marketing budgets but are seeking high-quality products. "We found a spot where we're not competing with other companies, but instead we've created something new," Profancik said. The company specializes in interior and exterior photography and videography, aerial drone photography and videography, virtual staging and website creation.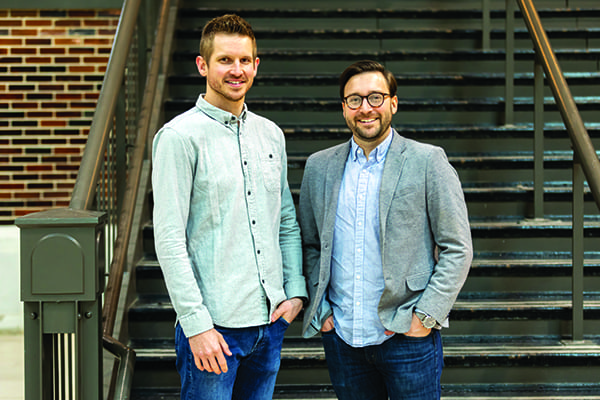 Square One Media has also found success because of the trust they've built with their customers. Nearly all their business over the last five years has come from word-of-mouth referrals. "We ensure there is a human element when working with our clients," Monzyk said. "You're going into people's homes and it's a very personal experience. They could be selling because of a divorce or a death. We're there to help them."
Monzyk and Profancik are sharing their entrepreneurial spirit and expertise with current Maryville students. They recently participated in a capstone class for the Strategic Communication and Leadership Program. Maryville students treated Square One Media as their "client," creating and implementing a marketing campaign to promote the company. In the process, the Square One Media duo provided real-world feedback and advice for the students to use when they enter the workforce.
Square One Media will also serve as mentors through Maryville's Alumni & Friends Industry Expert Program, hosted by the Division of Student Success. The program matches undergraduate students with alumni based on career interests and areas of study. Monzyk and Profancik look forward to communicating with students over the course of the next academic year via in-person meetings, email exchanges and phone calls.
"Being an entrepreneur is all about coming up with new ideas and turning those ideas into action," Profancik said. "My No. 1 piece of advice is: Be a sponge. You need to be very observant of what's going on around you. You'll learn so much — more than you'll ever learn from a book — because experiences are key. Then, if you apply that knowledge to yourself, you will be successful."
This story originally appeared in the Spring 2019 issue of Maryville Magazine.