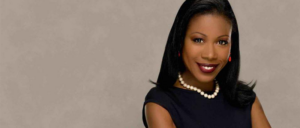 Annual Staenberg Lecture to Feature Renowned Author Isabel Wilkerson
Pulitzer Prize-winner will headline the second Annual Staenberg Lecture on April 27, in partnership with the St. Louis Kaplan Feldman Holocaust Museum.
The Annual Staenberg Lecture, presented by Maryville University in partnership with the St. Louis Kaplan Feldman Holocaust Museum, will take place Thursday, April 27, 2023, at The Factory in Chesterfield, Missouri.
The event will feature Pulitzer Prize-winning author Isabel Wilkerson. A former Chicago Bureau Chief for The New York Times, Wilkerson received the 2015 National Humanities Medal. Her most recent book, Caste: The Origins of our Discontents, explores America's deeply-rooted divisions and the parallels with historical hierarchies in both India and Nazi Germany. A #1 New York Times bestseller, Caste was also named #1 Nonfiction Book of the Year (2020) by Time magazine, and inspired an in-depth Oprah's Book Club podcast series, produced by Apple Books.
This will be the second in a series of lectures made possible through a generous commitment to Maryville University from philanthropist Michael Staenberg, and the Staenberg Family Foundation. The five-year series focuses on contemporary social issues through the lens of the Holocaust, its lessons, and its historical significance.
"In the current environment, social issues are as important as political issues," said Michael Staenberg. "We are proud to partner with Maryville University to continue putting these matters front and center, in order to encourage dialogue and inspire immediate response."
The inaugural lecture, in April 2022, featured Jonathan Greenblatt, CEO and National Director of ADL (Anti-Defamation League); the world's leading anti-hate organization. Greenblatt set the tone with a warning against the hate and systemic violence gathering momentum in the United States.
Wilkerson will further this critical conversation, as issues of hate, racism, antisemitism and violence continue to dominate recent headlines.
"We are grateful to the Staenberg Family Foundation for providing this vital platform in our community," said Maryville President Mark Lombardi, PhD. "By engaging directly with our neighbors and fellow citizens, we can heed history's warnings and take action against systemic hate that threatens our society."
The St. Louis Kaplan Feldman Holocaust Museum is an active partner in the Series. The Museum recently reopened its doors to the public, following a major renovation project to significantly expand the facility with all-new exhibit spaces, classrooms, a new Impact Lab and more.
"We are proud to once again partner with Maryville University for this annual program," said Dr. Frances Levine, the Museum's Interim Executive Director. "We thank the Staenberg Family Foundation for their ongoing support of this program and look forward to sharing Isabel Wilkerson's insights with the community. Caste has prompted many crucial discussions about racism, prejudice, and systemic inequality – we are glad such a conversation will take place in St. Louis."
The annual lecture incorporates educational opportunities for students from Maryville, as well as students from area high schools and youth organizations, who attend the event. Sponsorship opportunities at a variety of levels are available for organizations and individuals to help expand the Series' reach and impact.
"We look forward to returning to The Factory for this ongoing discussion, with such an informed and inspirational speaker as Isabel Wilkerson." Lombardi said. "As a group and as a society, we cannot fail to absorb and implement the lessons of history."
The lecture is open to the public. Tickets will be available through Ticketmaster.
About Maryville University
Founded in 1872, Maryville University is a comprehensive and nationally ranked private institution with an enrollment of nearly 11,000 students. Maryville offers more than 90 programs at the undergraduate, master's and doctoral levels to students from 50 states and 58 countries. Among recent graduates, 98 percent are employed or attending graduate school.
About the St. Louis Kaplan Feldman Holocaust Museum
The St. Louis Kaplan Feldman Holocaust Museum, a department of Jewish Federation of St. Louis, is an education and exhibition facility dedicated to using the history and lessons of the Holocaust to reject hatred, promote understanding, and inspire change. The museum currently provides virtual educational programming as it undergoes a $21 million expansion. The new world-class institution will open in mid-2022. Learn more at StlHolocaustMuseum.org.
About the Staenberg Family Foundation
The Staenberg Family Foundation was founded in 2005 by the Staenberg family as a supporting foundation of the Jewish Federation of St. Louis. As such, it supports projects and programs that meet the mission of the Jewish Federation of St. Louis, which is to mobilize resources needed to preserve and enhance Jewish life in St. Louis, in Israel and around the world.
Media Contact:
Gabrielle Young
Executive Director, Strategic Marketing & Communications
Maryville University
314.529.9380
gyoung@maryville.edu