Bernice King, daughter of the Rev. Dr. Martin Luther King Jr., will deliver the 2017 address for Maryville University's annual Martin Luther King Jr. Celebration. She will speak at noon on Jan. 26 in the Maryville Auditorium.
The program is free and open to the public. A book signing will immediately follow her presentation in the Donius University Center.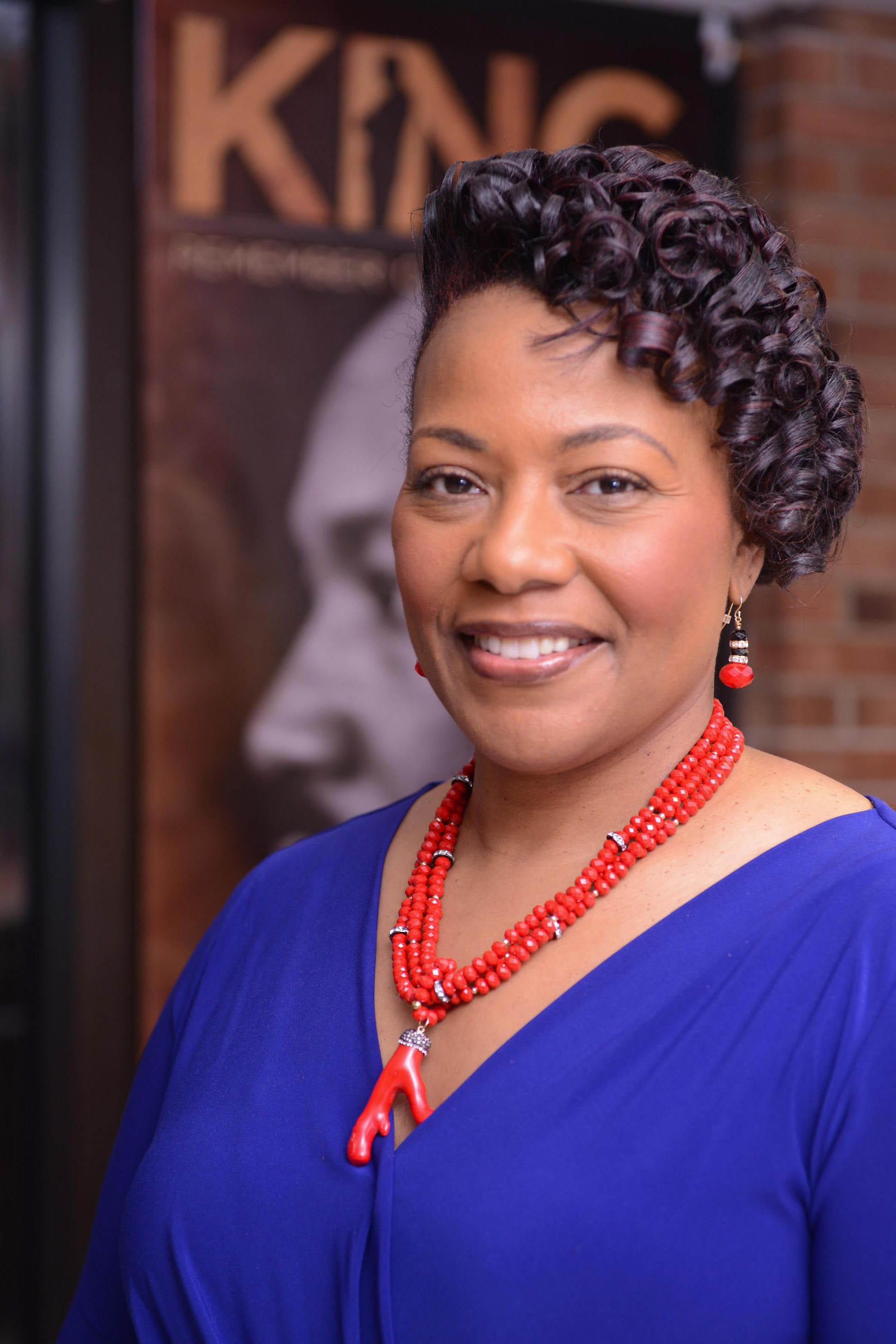 King is CEO of The King Center, founded by her mother, Coretta Scott King, in 1968. Nationally and internationally known as a powerful, motivating and life-changing speaker, King challenges her audiences to "raise the standard."
"Bernice King has been very active in carrying on her father's legacy and creating her own. To have the chance to hear from someone who knew Dr. King is very exciting," says Turan Mullins, assistant dean for diversity and inclusion. "We look forward to being inspired by her wisdom and insight."
King began her oratorical journey when she spoke in her mother's stead at the United Nations at age 17. Over the years, she has also addressed audiences on the steps of The Lincoln Memorial, at The White House, at major corporations and universities, and in places throughout the world, including South Africa, Germany and New Zealand.
Through her work at the King Center, King has continued to educate youth and adults about the nonviolence principles modeled by her parents.
King is a graduate of Spelman College with a BA in psychology and a Masters of Divinity and Doctorate of Law from Emory University. She has also received an honorary Doctorate of Divinity from Wesley College.
In honor of her mother, Bernice returned to Spelman College to announce the establishment of the Be A King® Scholarship. She is currently a member of the State Bar of Georgia. King serves on the HOPE Southeastern Board of Directors of Operation HOPE and is a member of the International Women's Forum.
With a strong concern for youth, family and community partnership, King served as a law clerk in the Fulton County Juvenile Court system under Judge Glenda Hatchett. It was there that she realized a growing number of teens have been double victims: first of society and secondly of an ineffective legal system based in retribution instead of rehabilitation.
King also serves as a mentor and advisor to the Coretta Scott King Young Women's Leadership Academy (CSKYWLA), grades 6-12. King launched the "100 Days of Nonviolence" campaign at CSKYWLA to expose the students to nonviolence as modeled by her father ("Nonviolence365™"), and to encourage them to begin embracing it as a way of life.
Through her work at the King Center, King has continued to educate youth and adults about the nonviolence principles modeled by her parents. In 2012, she implemented an annual N.O.W. Encounter Summer Camp which has educated youth from New Mexico, South Carolina, Michigan, Alabama and as far away as Cyprus.
In 2013, as she continued her parent's legacy, she spearheaded the August 28, 2013, "Let Freedom Ring and Call to Action" event to commemorate the 50th anniversary of the March on Washington and her father's famous "I Have a Dream" speech. This global event included President Obama, former Presidents Clinton and Carter, members of Congress and many other international leaders, dignitaries and entertainers.
In 2014, as part of the Center's Nonviolence365™ education and training initiatives, she launched Students with King, which enables students to interact with King and Farris family members. As part of the student's interactive conversation, which is typically moderated by either a local radio or TV on-air personality, students are given the opportunity to learn about the more personal side of the King legacy. Also, in 2014, King launched a series on interactive web-talks with students throughout the country using "Google Hangout" as the platform.
As part of her work in 2014, King provided Nonviolence365 education training in Ferguson, Mo., that included students, teachers, law enforcement, gangs, businesses, community leaders and activists. She encouraged them to commit themselves to embracing nonviolence as a lifestyle. The work in Ferguson, continues and requests for Nonviolence365 education and training continue to pour into The King Center.
In January 2015, The King Center hosted its first Beloved Community Talk entitled "The Race Factor: The Lies, The Myths and The Truths" as part of its 2015 King Holiday Observance. One of the most moving and inspirational experiences hosted by King was the program commemorating her mother's life and legacy, entitled "Mothers in the Movement: From a Daughter's Perspective." She continues to expand and enhance The King Center's Nonviolence365 Education and training initiatives.
King has been featured on numerous television shows, in magazines, as a television commentator and is the recipient of a host of awards and accolades. In April 2008, Bernice was one of the 15 delegates selected to meet Pope Benedict XVI during his visit to the United States and in 2015 she was invited by the White House for Pope Francis' visit. She is the author of Hard Questions, Heart Answers.
She is an innovative, energetic and committed leader dedicated to fulfilling the calling of taking her parents legacy and The King Center into a new era.