As they have every December finals week for nearly three decades, students recently lined up for a late night of Cram Jam, a Maryville University tradition featuring mounds of breakfast food and generous giveaways. A record 640 students were served this year by the usual enthusiastic crew of volunteers —namely, representatives of Maryville's faculty and staff.
Judging by reports from the kitchen, students ate heartily.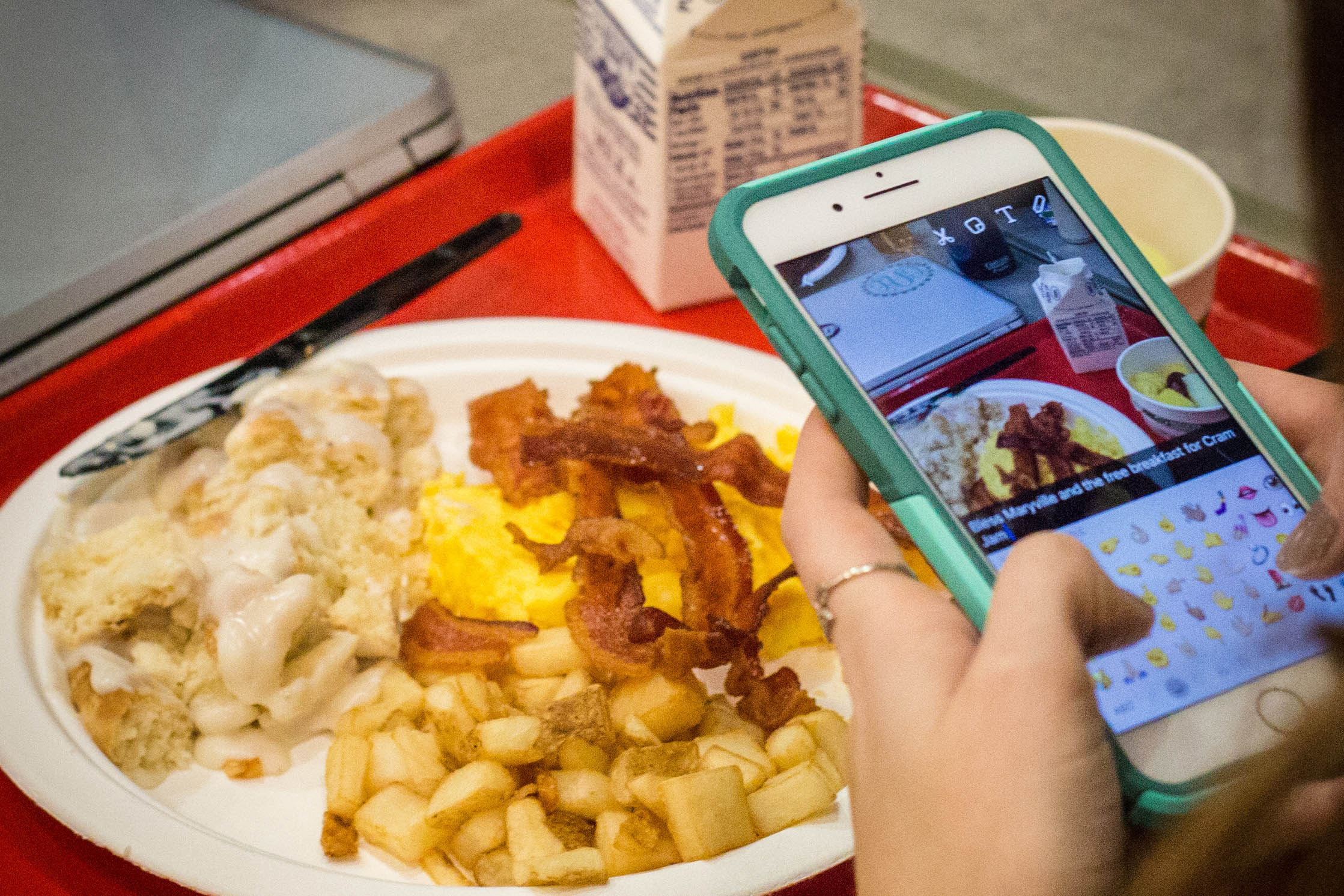 Fresh Ideas, Maryville's food service, cooked up 600 biscuits with gravy, 760 pancakes, 225 pounds of bacon and 70 pounds of sausage, and served 1800 donut holes and 750 half-pints of milk. Scrambled eggs, potatoes and fresh fruit were also on the menu.
Students consumed the entire food spread in 40 minutes.
"For years, students have rushed to the dining hall to de-stress before final exams by being served late-night breakfast by faculty and staff," says Ally Crust, assistant director of student involvement. "Each year, the prizes get bigger and better, the food line gets longer and the camaraderie of good friends provides the bookend to a great semester."
December's Cram Jam also featured music, a preview of Winter Welcome Week, music, studying, a successful donation drive for Christmas presents to benefit children at St. Louis Children's Hospital, the St. Louis Blues game on big screen TVs and gathering with friends.
Major prizes won by students included a flat screen TV, two Apple watches, gift cards, a Yeti cooler and Beats headphones.
Cram Jam is hosted each fall and spring by the Campus Activities Board, supported by Fresh Ideas and Go Saints.
Click here to view a Facebook photo gallery from Cram Jam.
And watch this Facebook Live video from the event: