Reading time: 3 minutes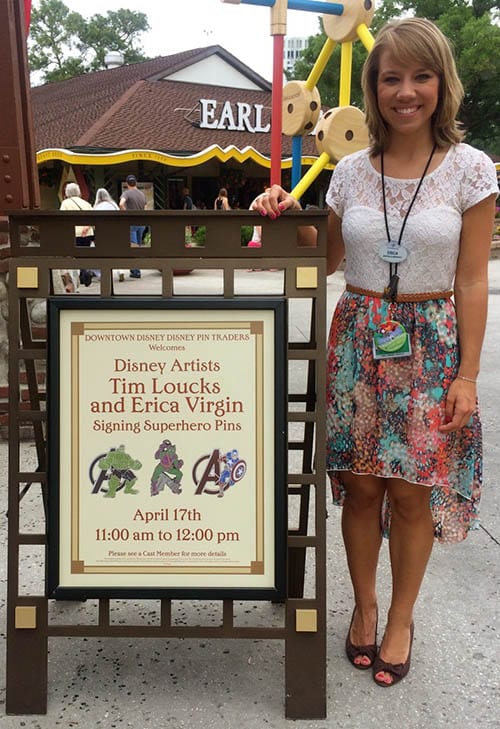 Princess tiaras, mouse ears, t-shirts, hats, pins and mermaid tails are just a small sampling of Disney World theme park souvenirs purchased by tourists as a tangible reminder of their vacation. Few buyers, however, give any thought to the process behind that special creation.
In fact, people like Erica Virgin, '11, design those souvenirs, some of which might take a year to create. Virgin is living her dream of working as a graphic designer at Disney Design Group in Kissimmee, Fla.
Virgin's love of all things Disney began as a child when her family watched Disney movies together and vacationed at Disney World. "Disney brought a lot of joyful experiences to my family," she says. "I wanted to give back and provide that joy to others. I always thought I would be an animator for them when I grew up."
The road to Disney began just one week after her graduation from Maryville, when Virgin started working as a lifeguard in the Wilderness Lodge Resort as part of the Disney College Program. It was a great way to get her foot in the door. From there, Virgin earned a spot in the very competitive internship program, worked as a freelancer for Disney and now has a temporary full-time position, which she hopes will become permanent.
Virgin has been fortunate to work on some big projects—such as a pin set for the new Dumbo rides, a pin set for the Avengers half marathon and a co-branded tote bag with Dooney and Bourke. "It blows my mind to see people from all over the world picking up something I designed and buying it," says Erica. "The idea that something I designed makes people happy is gratifying."
One of the highlights of Virgin's young career has been designing t-shirts and banners for runDisney marathons. "Running has been a huge part of my life and something I get to do to bond with my dad," she says. "This project was meaningful, because it combined my three passions: running, design and Disney."
Working on so many projects at once can be challenging. At any given moment, Virgin may have 40 to 50 design concepts due the same day. "I am a perfectionist, but I can't always spend as much time as I want on a project," she says. "I have to remember that the first concept is a rough draft, and it will be changed and tweaked anyway. I had to learn to do my best within a short time frame."
Although it can be stressful at times, Virgin is grateful for the opportunity to do what she loves.
"I am grateful to my parents and brother for being so supportive and also thankful to my Maryville professors for providing an amazing education that prepared me so well for the real world," she says. "I wouldn't be where I am today without them. I'm so blessed and fortunate that I am able to live my dream."