Reading time: 2 minutes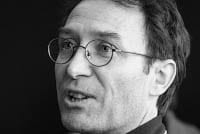 Arrived Perfect [Assembly Required], an exhibit featuring sculpture and drawings by Tad Gloeckler, will be on view in Maryville University's Morton J. Foundation May Gallery on through Nov 11.
Gloeckler is a Georgia-based professor, artist and architect. Arrived Perfect [Assembly Required] represents the intersection of art and architecture. The collection of multimedia sculpture and drawings presents technology juxtaposed with concepts of nature in a way that is intended to provoke conversation and reflection on human existence.
Gloeckler's creative work combines digital and manual fabrication processes to interpret natural land formations as highly-crafted, transformative sculptures. Many of his works mechanically morph or "deploy," offering his audiences the paradoxical duality of initial, intuitive understanding followed by perceptual curiosity. The deployments of the pieces — manually controlled by Gloeckler — reveal a layered reading of his works infused with ingenuity and a slight dose of irony. A mundane wooden dresser, for example, is disassembled and re-assembled through a series of dramatic, complex moves to reveal an abstract installation representing what Gloeckler describes as "fragments of dissected, abstract, biological-like forms."
Gloeckler is a registered architect, certified interior designer and associate professor in the Lamar Dodd School of Art at the University of Georgia in Athens, Ga. He holds a master's in architecture and has two decades of college-level teaching experience. Prior to his teaching career, Gloeckler worked with the National Forest Park Service and Fisheries Department, where he focused on conservation initiatives. His work with the National Parks – combined with his architectural experience – conceptually informs his creative practice.
"The art and architecture that I create is an expression of my deep respect for nature, materials, and design," Gloeckler says. "I hope to encourage viewers to reexamine familiar objects and surroundings, cultivate a curiosity of all earth life forms and processes, and contemplate unique mediations of nature and human existence."
His work has been featured in numerous solo exhibits, regional exhibitions and international exhibitions. Numerous awards and honors recognize Gloeckler's work, including the Marilyn Wolf-Ragatz Purchase Award (2015), the Interior Design Educators Council (IDEC) Outstanding Creative Scholarship Entry (2012) and the Athens Sculpture Festival Best of Show (2010).
Generous support for this project has been provided by Maryville University, The Whitaker Foundation and The American Institute of Architects St. Louis Scholarship Fund.