Reading time: 2 minutes
The Maryville University baseball squad announced that 10-year-old Alec Ingram is now an official member of the Saints. He joins the Saints through Team IMPACT, a non-profit organization that works to improve the quality of life for children facing life-threatening and chronic illnesses.
Alec is in the fifth grade. He lives in Washington, Mo., with his family, two dogs—Hailey and Harley—and his goldfish, Trout. In May 2015, Alec was diagnosed with osteosarcoma in his arm. Osteosarcoma is the most common type of bone cancer found in children. On Sept. 10, 2015, Alec had surgery to remove the tumor in his arm. Thankfully, the surgery went well, and Alec is doing great.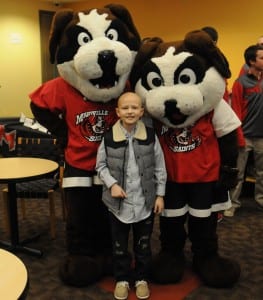 "I want to thank Alec and the entire Ingram family for joining our baseball program, athletic department and university," Saints head baseball coach Seth Von Behren said. "Above all else, Maryville baseball recruits players who are good people, who work hard, and who have the drive to achieve greatness in life. Alec Ingram will make us better as people and a program. We look forward to a bright future with Alec on our team thanks to Team Impact."
Alec loves to play sports. Before his cancer, he played baseball and basketball. His favorite color is neon green. Alec loves pepperoni pizza and steak, and his favorite TV show is "Phineas and Ferb." He enjoys watching his favorite movie, Fast and Furious 7, playing Xbox 360, and listening to Luke Bryan. Alec's favorite athlete is Mike Trout. Since Alec's lucky number is 23, he will wear and share that number with Saints sophomore pitcher Justin Laffleur.
Alec is the third Team IMPACT child to join the Saints. Kyra Kidder joined the Maryville family through the women's basketball team, and JJ Grevenberg did so through the men's soccer team.
Established in 2011, Team IMPACT has already matched more than 700 children with collegiate teams at over 300 institutions in 43 states, improving the quality of life of hundreds of courageous children and touching the lives of over 20,000 student athletes.
RELATED LINKS
Link to YouTube video of Alec's Signing Day
Link to Team IMPACT website – http://www.goteamimpact.org/