Reading time: 3 minutes
Not many plays that focus on the dysfunctional living dynamics of clashing roommates are as funny, entertaining and witty as Neil Simon's The Odd Couple. A new drama club at Maryville University brought the play to the stage—with a twist.
The drama club at Maryville staged Simon's alternate version of the classic play, called The Odd Couple-Female Version, on March 31 and April 1 in the University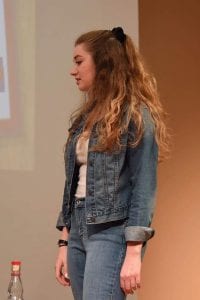 Auditorium.
The play was a student-run production, acted and directed by members of the Drama Club, with the guidance of faculty adviser Art Santirojprapai, PhD, assistant professor of English. Natasha Bonner directed the play, which starred Maddy Seidenzahl and Rachel Weidig and featured Claire Day, Gabi Horwitz, Ryan Masando, Marion Richter, Paul Schuler and Samantha Tucker.
The story is about Florence moving into her friend Olive's apartment after she separates from her husband and loses her home and stability. It focuses on their struggle to coexist in the same living space, exposing their most humorous, dramatic, and catastrophic moments together, but also their individual journeys to find an identity and be happy.
"I thought the productions were a resounding success," says Santirojprapai. "We started rehearsals in early February and met three to four times a week. Without a doubt, all that hard work and planning paid off. I am especially thrilled that each performance was very well attended so friends and family could see how hard these students worked to make the play such a hit."
Bonner's passion for stories motivated her to bring the text to life and to put her personal spin on it. She says taking part in the Drama Club has been the highlight of her college experience, and she values the relationships she developed with the actors.
"This play n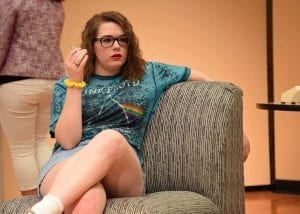 ot only got me out of my comfort zone, but it helped me discover something that I am really passionate about," says Bonner. "My whole life the only thing I've been completely in love with is cheerleading. And although I like acting, directing was an entirely new world. I love everything about it."
The Drama Club at Maryville launched last fall, after several students enrolled in a performance workshop course expressed interest. The students' commitment and ability have made the starting year of the drama club a success, says Santirojprapai. The club plans to stage two productions per year, one each fall and spring.
"The future definitely looks bright for a very active Drama Club next year," says Santirojprapai. "We already have two students who would like to direct the next productions. We are now in the process of selecting which plays to produce."
The Drama Club will announce the title of the new play early in the fall semester, along with audition opportunities, which include acting, production and marketing.
"This really is a fun club, thanks to the wonderfully engaging, fun personalities that are involved with it," says Santirojprapai. "There are many opportunities for anyone who is interested in being a part of this exciting club on Maryville's campus."