Reading time: 11 minutes
Distinguished alumni and friends of Maryville will be honored at the 2017 Spirit of Maryville dinner on campus, Saturday, May 20. Spirit of Maryville awards recognize those who give generously of their time and talents to Maryville and to the community at large, as well as those whose work brings distinction to their profession. Following are the recipients of the fourth annual Spirit of Maryville Awards.
Dean's Awards
Dean's Awards recognize graduates who bring distinction to their professions, to their communities and to Maryville. An award is given in each academic unit.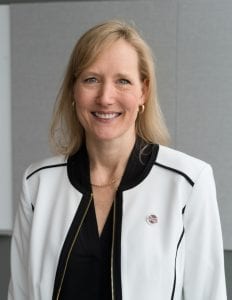 Kathryn Cox
Dean's Award/Arts and Sciences
Kathryn Cox, '91, has enjoyed a successful career in actuarial science at RGA, where she first began as a Maryville student intern. As senior vice president of business development, Cox works with client companies on the front lines, leading a team of senior level associates in strategic planning and execution, relationship-building and data analytics. The seeds of her successful career — she has also earned the distinction of Fellow of the Society of Actuaries — are rooted at Maryville, where she served as president of the Actuarial Science Club and developed ties that would endure far beyond graduation.
Cox has helped actuarial science graduates from Maryville to begin building their own successful careers at RGA. Approximately 100 RGA employees are Maryville graduates, out of a total of 2,200 employees worldwide. For the many Maryville alumni who now work at the company, Cox is a role model and mentor.
She is a member of Maryville's National Leadership Council and the Duchesne Society, and served as chair of the former College of Arts and Sciences National Leadership Council.
Rubel Brothers
Dean's Award/Walker College of Health Professions
Physical therapy is sort of a "family business" for the Rubel brothers: Greg, '97, Matt, '00, and Jason, '03, '04. With Greg leading the way, at least one Rubel brother was on campus for more than a decade — including years when two brothers overlapped.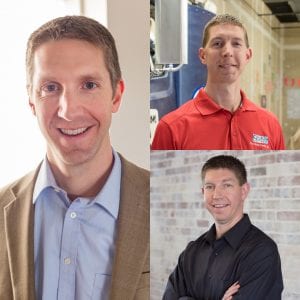 It's no surprise that all three have developed successful careers marked by increasing responsibilities over the years. Greg is the program manager of the Bridgeton clinic for the Work Center, in Bridgeton, Mo., treating patients and managing day-to-day operations. He joined the Work Center during his Maryville clinicals and began working there at the end of his last rotation.
Matt is director of the rehab department at Madison Medical Center in Fredericktown, Mo., overseeing physical therapy and occupational therapy in various health settings.
Jason is vice president of ambulatory services for the SSM Health Rehabilitation Network in St. Louis.
Healthcare professions and a Maryville education are Rubel family traditions, even beyond the physical therapy program. Greg and Jason both met their wives on campus. Greg's wife, Kelly, is also a physical therapist and Jason's wife, Marta, is a nurse practitioner. Matt's wife, Michele, is also a physical therapist.
Robert Tucker, MD, MBA, AIF
Dean's Award/Simon School of Business
Robert E. Tucker, MD, MBA, AIF, has enjoyed two successful careers. He was an orthopedic hand surgeon for more than 25 years and served as medical director of the St. Louis Orthopedic Institute, but he changed his career path 10 years ago.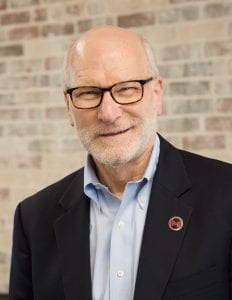 During his years as a surgeon, Tucker involved himself deeply in the business side of medicine, while at the same time envisioning the day this would become his "second chapter." According to plan, in 2006 he jumped from being a client of Plancorp, a financial planning and investment management firm, to becoming a member of the firm itself. Now as a vice president of Plancorp, Tucker uses his accrued knowledge of investment and planning to help physicians and other clients achieve their own dreams.
Tucker earned his MBA from Maryville in 1998, and served as a longtime member of the John E. Simon School of Business Advisory Board. He is also a longstanding member of the Duchesne Society and serves on the National Leadership Council Executive Committee.
Patrick Sly
Dean's Award/School of Education
Patrick J. Sly retired in 2016 following a 26-year career with Emerson. Most recently he served as executive vice president, managing the Emerson Charitable Trust and the company's community relations. He also oversaw facilities on Emerson's St. Louis campus, Emerson's worldwide travel and vehicle programs, and corporate sales.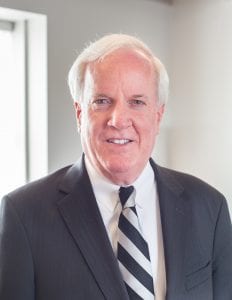 Through his role with Emerson Charitable Trust, Sly has been actively involved in the community and with Maryville. In recent years, Emerson has generously supported the Young Scholars program through Maryville's School of Education, a community outreach program that identifies high potential in students from schools in underserved districts. Emerson is also a regular sponsor of Maryville's St. Louis Speakers Series and supports Maryville's music therapy program for children, Kids Rock Cancer.
Sly served on the Ferguson Commission, and continues to serve on numerous boards throughout St. Louis.
Ann and Don Boyce
Volunteer of the Year
Service is a way of life for Ann Geis Boyce, '68, and her husband Don, who share the honorary title of Volunteer of the Year. The Boyces have become the go-to couple when an extra hand is needed or a leadership role needs to be filled.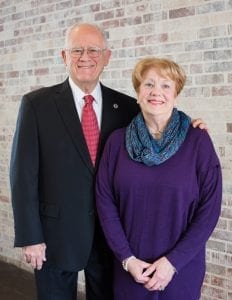 The Boyces have paid their appreciation forward in myriad ways. Ann has served on the Duchesne Society board, the School of Education Advisory Council, various reunion committees and on the Alumni Board. Most recently, she served on a Sacred Heart alumnae committee and as a Kids Rock Cancer volunteer.
Don, a CPA, facilitated a generous donation to Maryville from one of his clients, the late Irma Sue Macy, who sought to make a meaningful gift from her estate. At Don's suggestion, she made a $650,000 bequest to the University to create the "Irma Sue Macy L'Dor V'Dor Endowed Scholarship for Jewish Women." The Boyces also support an annual scholarship for Maryville students in their name, and Don has raised funds to support Maryville's Catholic Newman Center.
Stephanie Stegman
Young Alumni Award
The Young Alumni Award recognizes young alumni who bring distinction to their profession, their community and their alma mater.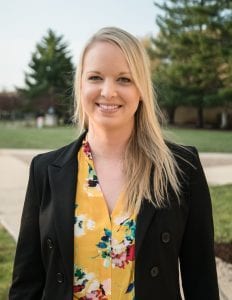 Stephanie Stegman earned a Master of Science in Occupational Therapy from Maryville in 2008. She has never looked back, except to remember the positive experiences and supportive relationships she developed while on campus.
Stegman applies the professionalism she learned at Maryville in her position with Barnes Jewish Hospital, where she coordinates field work for other therapists. And, in a textbook model of paying it forward, she holds an adjunct faculty position at Maryville. Now Stegman provides the same level of support and mentorship to students that she received on campus.
Giving back is a Maryville value Stegman has embraced. As a volunteer with Rebuilding Together St. Louis, she helps the organization not only restore homes in the area, but also makes sure they match the needs of the person in the home with their physical abilities.
Stegman is a member of Maryville's Duchesne Society and Maryville's National Leadership Council.
Peggy Padberg McGarry, '52
Heart of Maryville Award
The Heart of Maryville Award recognizes a lifestyle best exemplifying the values of the Sacred Heart tradition.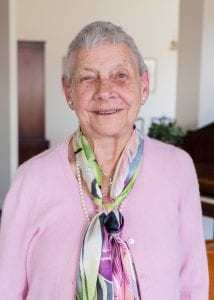 Peggy Padberg McGarry is, literally, a lifelong member of the Maryville family. Her older sister, Marie Louise, enrolled in 1931, when McGarry was just a year old; later the nuns remembered young McGarry waiting at the entrance for her sister. McGarry graduated from Maryville in 1952.
The family legacy dates back even further. Five generations of Padbergs have attended Maryville—beginning in the 1880s. Sixteen cousins attended between 1922 and 1957, and others followed through the decades. Her father taught chemistry at Maryville.
The Padberg connection to the Society of the Sacred Heart is also deep. Two of McGarry's sisters, Marie Louise Padberg, RSCJ, and Harriet Ann Padberg, RSCJ were members of the Society of the Sacred Heart. Sister Harriet Padberg is celebrated as founder of Maryville's music therapy program in 1972. McGarry donated a grand piano to the program and supports the Sister Harriet Padberg Endowed Scholarship for a music therapy student.
For McGarry, a Sacred Heart education has been the foundation of her life.
Michael R. DeBaun, MD, MPH
Myrtle E. and Earl E. Walker Medal
The Walker Medal recognizes outstanding contributions or achievement in the field of Health and Wellness.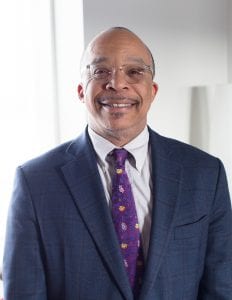 Michael R. DeBaun, MD, MPH, is the JC Peterson Chair in Pediatric Pulmonology at Vanderbilt University in Nashville, Tenn. Previously he served as the Ferring Family Chair in Pediatrics at the Washington University School of Medicine in St. Louis.
DeBaun has provided groundbreaking research and leadership in the treatment and care of children with sickle cell disease. An internationally known physician, researcher, lecturer and mentor, he created the Charles Drew Community Blood Donor Campaign, which encourages diversity among blood donors to better match donors with patients who have rare blood types, like sickle cell patients. He also created the Sickle Cell Sabbath, a national model that engages churches in the African American community to host blood drives and raise awareness of how ethnically similar blood donations help reduce complications in sickle cell patients and reduce the need for repeated transfusions.
DeBaun has a strong connection to Maryville University. His mother, Everlouis Rutledge DeBaun, '58, was Maryville's first African American graduate. She served as a longtime teacher in St. Louis Public Schools. In lasting tribute, the DeBaun family supports the Everlouis Rutledge DeBaun Endowed Scholarship at Maryville, created by the Class of 1958 in her memory.