A steamer trunk belonging to Sister Elizabeth Nagel, who was a novice at Maryville in the late 1910s, has been returned to the University and will be displayed during Alumni Weekend, Sept. 22-24.
The trunk would have held all of Sr. Nagel's worldly possessions as she traveled from one Society of the Sacred Heart institution to another to carry out her devotion. Sister Nagel was a coadjutrix, a non-teaching religious. She received her habit in 1917, and took her final vows in June of 1919.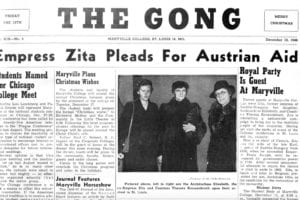 Before coming to Maryville, Sr. Nagel emigrated to the United States from Hungary. A shepherdess during her childhood, she arrived in New York in 1907, at 22 years old.
In 1946, Empress Zita (last Empress of Austria and Queen of Hungary) stopped at Maryville College when she toured the United States asking for aid for Austrian war victims. Sister Nagel prepared a special dish for her sovereign representing the colors of her nation.
After Maryville, Sr. Nagel served at Clifton, Villa Duchesne and St. Charles. Her trunk has finally returned to Maryville, where it will be displayed by University Archives throughout Alumni Weekend, Sept. 22-24, 2017.
Sarah Henkel, a junior history major and creative writing minor, contributed to this article.