Maryville University and the Department of Athletics will sponsor the fourth annual "1000 Saints Night" for the basketball doubleheader on Thursday, Feb. 16, benefitting Kids Rock Cancer.
The Saints hope to draw at least 1,000 fans for their matchups against Drury University. The women's game starts at 5:30 p.m., followed by the 7:30 p.m. men's contest.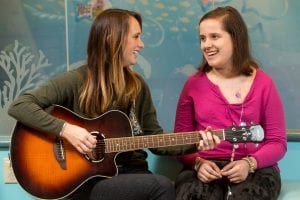 In lieu of the usual admission fee, a minimum $5 voluntary donation is suggested toward the night's $10,000 fundraising goal for Kids Rock Cancer, Maryville's innovative music therapy program that helps children and teens successfully cope with the emotional challenges that accompany a cancer diagnosis by writing and recording a song.
Supporters can also donate via "Text to Give" by texting the word "Saints" to 71441. To contribute online, visit maryville.edu/1000saints. Reliance Bank is an official sponsor and supporters can make donations at all 20 St. Louis area locations. The University has already surpassed $5,000 for the 2017 drive.
In 2016, a crowd of 1,123 attended the games, and the evening raised more than $7,500 for Kids Rock Cancer.
"Maryville University's Kids Rock Cancer is thrilled to be partnering once again this year with Maryville Saints Athletics on 1000 Saints Night," said Liz Haynes, director of special programs. "Last year, a significant amount of money was raised to provide children and teens undergoing cancer and other blood disorder treatments the opportunity to become a rock star and write and record their very own song. Thanks to the generosity of the Maryville and St. Louis communities, we are confident we will exceed our goal this year."
Event supporters are encouraged to use the hashtag #1000Saints on all social media platforms.